According to Cheong Shiu Hong, 24, academic success and other accomplishments are simply by-products of keeping a good attitude. By embracing challenges and avenues for improvement, one may naturally beget positive experiences as a result.
Learning at the Singapore University of Social Sciences is more than just books and mugging for exams. The unique educational philosophy of experiential and applied learning opportunities, coupled with a heavy focus on encouraging students to give back meaningfully to society, instills in them, the essential qualities of "Head, Heart and Habit", for a holistic and interdisciplinary learning experience. As a Year 3 Bachelor of Science in Finance with Minor in Algorithmic Development undergraduate and SUSS Scholar, Cheong Shiu Hong, the unique education experience was not only eye-opening, it helped him recognise his dreams and passion too.
What Are Some Highlights From Your University Journey Thus Far?
One of the key highlights was my summer break at the end of my first year, where I travelled to Shanghai, China, for an Inter-national Summer Programme at Fudan University. There, I read International Trade and International Finance as an alternative to fulfil the International Economics (ECO203) course in SUSS. Being able to interact with, and learn from students from all over the world was an eye-opening experience for me.
Another highlight was from my second year, when my team-mates and I represented the university at the finals of the Mc-Gill International Portfolio Challenge 2019 in Montreal, Canada, where we had the opportunity to present to buy-side industry professionals. This experience stands as the wildest university experience for me thus far – from rushing presentation slides during the 16-hour flight and submitting them through the airport's Wi-Fi upon touchdown, to rehearsing our presentation in our hotel rooms holding a remote controller as our microphones. We then had to rush back to Singapore for our first exam paper the very next day, studying and attempting past year papers on the flight back.
What Was One Challenge You Had To Overcome as a Student?
The pace of learning – where the curriculum is spread across a span of six weeks, which is very different from what I was used to in Ngee Ann Polytechnic. To overcome this, I had to adjust my view on seminars – that they were a supplement to self-directed learning instead. In SUSS, I would study the units before seminars, using online resources to have a better grasp of the content, before using the face-to-face seminar sessions to clarify doubts with my professors. This was very effective as my time was spent more efficiently, allowing me to take on more competitions and other activities. As the saying goes, "To be prepared is half the victory".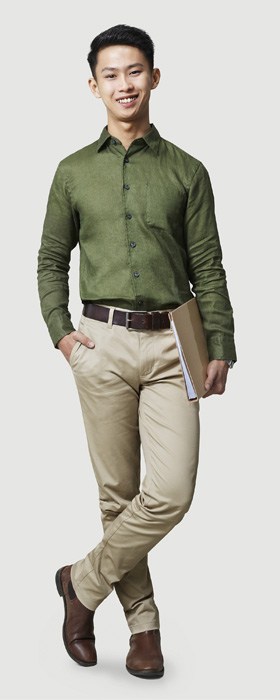 How Has Your Service-learning and Community Engagement Impacted Your Journey?
I did my Community Engagement with Happy Children Happy Future, a volunteer-run organisation which provides youths from low-income and/or single-parent families with complimentary weekly tuition and free access to outings and workshops. As a board games facilitator, I organise monthly board game sessions with the children to reinforce their social skills and collaborate with community partners, to invite the elderly to bond with the children through board games. Interacting with the children helped me appreciate my university journey, and inspired me to work harder to maximise every single opportunity. From taking online courses to broaden my knowledge, to competitions with networking opportunities, these activities helped me perform better academically and excel in my interests, greatly augmenting my university experience.
As a SUSS Scholar, What Advice Do You Have for Students Who Are Keen in Applying for the SUSS Scholarship?
In working towards a scholarship, I believe that attitude is of utmost importance. A good attitude helps us persevere through challenges, yielding positive results to our experiences. The ability to self-learn effectively is also very important in this day and age. We need to be passionate and meta-cognitive about what we are self-learning too. By taking time to understand why we want to learn something, we become aware of how we can learn better, and from there, strategise a study plan according to our learning style. Ultimately, academic results and other accomplishments are simply the manifestations of a good attitude, which is one that is willing to take on challenges and constantly improve.
CHEONG SHIU HONG
SUSS Scholarship
Age: 24
Now: Bachelor of Science in Finance with Minor in Algorithmic Development, Singapore University of Social Science
From: Ngee Ann Polytechnic, Diploma in Tourism & Resort Management
More Articles