A recipient of multiple scholarships during her undergraduate studies at Waseda University, Cheong Zhi Yin found herself in Tokyo pursuing a liberal arts programme upon her junior college graduation. Introduced to rich culture and life experiences, Zhi Yin embraced the various aspects of being an overseas scholar.
What Kind of Scholarship Did You Receive?
I received several over the years. They are, the Honors Scholarship for Privately Financed International Students by JASSO, the Yamada Taikichi and Asa Scholarship, and the Waseda University Partial Tuition-Waiver Scholarship for Privately Financed International Students. I also received the WSC (Waseda Supporters' Club) Members Fund Global Human Resources Development Scholarship for my exchange year at Peking University. These scholarships sufficiently covered a large part of my tuition expenses.
Excluding the Honors Scholarship for Privately Financed International Students which is offered by JASSO, an organisation under the Ministry of Education, Culture, Sports, Science and Technology of Japan, all of the other scholarships were handed out by Waseda University.
Share Something Which Positively Surprised You About Your Scholarship Programmes.
I was pleasantly surprised at how easy it was to apply for the scholarships. I only had to submit one scholarship application through the school's online portal every semester, and the rest was taken care of by the efficient staff at Waseda. All scholars are required to maintain high academic standards. Apart from that, all of the scholarships were bond-free.
How Has Your Scholarship and Studying in Japan Opened Opportunities for Your Future?
I applied to Waseda because of the plethora of scholarships it offered. It was a deciding factor for me during my university selection process. My scholarships eased my family's financial burden and allowed me the headspace to focus on my studies and enjoy other aspects of school life. I was able to participate in extracurricular activities while ensuring that I had sufficient time to study and socialise with friends. This gave me the opportunity to grow as an individual and connect with many remarkable people in Japan. Waseda also has a strong alumni network that expands beyond Japan. Hence, I feel reassured that I can find support from the community no matter where I go in the future.
Share Some of Your Views on Why You Could Receive This Outstanding Scholarship.
I believe the two contributing factors to my eligibility were my grades and my family's financial situation. The online application form requested information regarding my monthly income, expenses, and Japanese language proficiency. I do think some scholarships consider those as well.
What Were Your Most Memorable Experiences as an Overseas Scholar at Waseda?
I worked a variety of part-time jobs while I was a student at Waseda. As a part-time employee at multiple divisions of the university, I was involved in quite a few memorable school events. I particularly enjoyed distributing flyers and speaking with new students on the day of their entrance ceremony, sharing my university experience with local high school students at the annual Open Campus, and playing bingo with students from other faculties at an event organised alongside other student employees. Outside the perimeters of school, I made many unforgettable memories. I travelled to Niseko, Hokkaido and worked as a waiter at a hotel restaurant with a friend I made at Waseda during the summer holidays one year. Moreover, I emceed at a local festival and worked as part of the technical crew for a theatrical production during the spring holidays.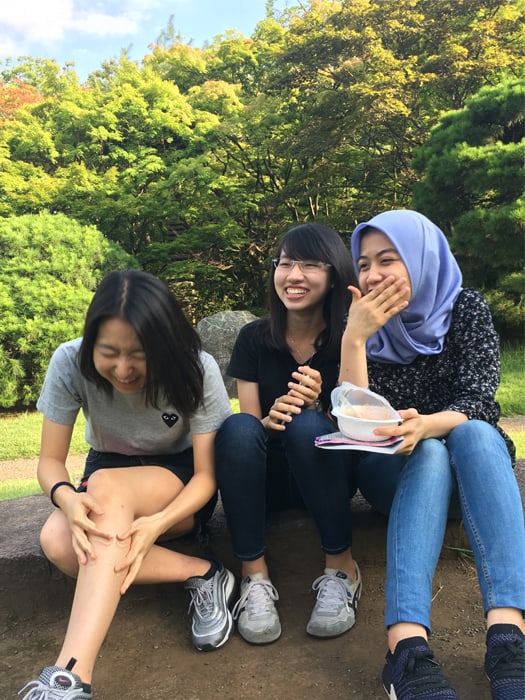 Explain One Challenge You Had To Overcome as a Student.
Due to the COVID-19 pandemic, I took online classes exclusively for more than a year in Singapore. This presented new frustrations. I followed a different academic schedule than my friends in Singapore and was unable to see my professors and friends in Japan even when face-to-face classes resumed. I experienced a strong sense of loneliness as many others did. However, I am grateful that my professors tried their utmost best to accommodate students like myself who could not be back in the classroom. With the help of modern-day technology, I was also able to interact with other classmates in breakout rooms and connect with friends on social media.
What Are Some of Your Career Goals?
This is a question I often struggle to answer. My ultimate goal is to facilitate the international exchange of ideas and promote global understanding, however, I am still figuring out the steps needed to get there. For now, I am thinking of pursuing a master's degree in Linguistics and will leave room for wherever life takes me. My career aspiration is to work in a non-governmental organisation, in the media industry, or in academia.
CHEONG ZHI YIN
Tuition-Waiver Scholarship for Privately Financed International Students (2020)
Yamada Taikichi and Asa Scholarship (2019)
WSC (Waseda Supporters' Club) Members Fund Global Human Resources Development Scholarship (2019)
Honors Scholarship for Privately Financed International Students by JASSO (2018)
Now: Bachelor of Arts in International Liberal Studies, Year 4, Waseda University
From: Anglo-Chinese Junior College
More Articles