At the National Parks Board (NParks), there is a wide variety of career opportunities. Scholars can look forward to gaining exposure to a great diversity of professional portfolios within the lead national agency for greenery; biodiversity conservation; and animal health, welfare, and management. Hear it first-hand from NParks Scholar Tok Yin Xin.
Yin Xin holds a bachelor's degree in Ecology and Environmental Biology from the Imperial College London. With an innate passion for nature and biodiversity, she is no stranger to the multifaceted and the uncommon, the words best describing her academic and professional development journey.
The NParks talent has assumed various roles since joining, from park manager at East Coast Park to media manager in the Communications team, and she is now a biodiversity manager at the National Biodiversity Centre. Yin Xin is a testament to how NParks scholars are versatile and can wear multiple hats, but in all they do, they shall always play an important role in creating a green and vibrant living environment for all to thrive and enjoy. Read on as she shares more.
My bonding with nature started young. Biophilia has always been inherent in me. I have fond childhood memories of running after dragonflies and butterflies and playing with Angsana and rubber tree seeds. In secondary school and junior college, I was fortunate to go on field trips to MacRitchie Reservoir Park, St John's Island, and even overseas to Christmas Island and the Alpine National Park in Australia to learn about biodiversity in those areas. These experiences shaped my worldview and brought nature close to my heart. I then joined various nature groups, helping conduct surveys and offer guided nature walks for the public, which gradually developed into a passion for sharing my love for biodiversity with everyone!
There is a quote by Richard Louv that has guided me throughout my personal and professional development: "We cannot protect something we do not love; we cannot love what we do not know, and we cannot know what we do not see. Or hear. Or sense." These words of wisdom led me to pursue a degree in Ecology and a career with NParks.
An assortment of special moments in my university life. One of the modules in my final year of studies was a sub-tropical biology field course conducted in South Africa. It was designed with lectures and fieldwork to provide students with experiences in research and conservation. My coursemates and I spent two weeks amidst the fynbos in the Cape Floristic Region learning about the different research and data collection methods, and we designed a small research project. It was an unforgettable experience to be surrounded by such high diversity and endemism of plant species right in the middle of a biodiversity hotspot.
Outside of my coursework, I volunteered at the Natural History Museum in London, a stone's throw away from my university. I worked with the reptile curator to sort, label, and maintain the alcohol-preserved reptile collection. Their amphibian and reptile collection is of immense scientific value, as it is one of the oldest collections in the world, with more than 8,000 type specimens. It was a privilege to be behind the scenes and contribute to this important work. I remember getting all excited when I spotted some specimens from Singapore, as they were the closest I could get to Singapore's wildlife overseas!
Another memorable experience was during my first summer holiday, when I had the opportunity to volunteer as a research assistant in the cloud forests of Honduras, one of the islands in the Caribbean, and in the Amazon Rainforest in Peru. I spent two months exploring these very different habitats, gaining invaluable field experience helping researchers carry out surveys across various taxa, such as birds, fish, reptiles, amphibians, bats, small mammals, primates, and corals.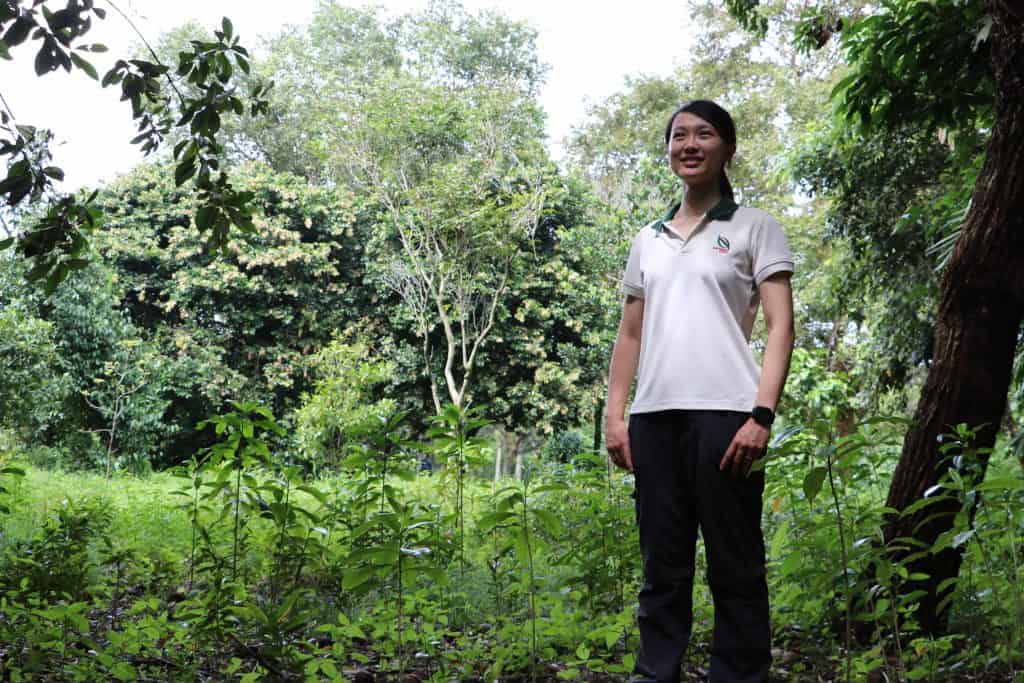 My varied exposure to the different professional portfolios in NParks. I started as a park manager at East Coast Park, one of the most popular and largest parks in Singapore. It was a good introduction to the work at NParks as it provided a rich and varied experience on different aspects of park management. I was part of the team maintaining the greenery and the facilities, managing park tenants, engaging park visitors, and carrying out habitat enhancements for biodiversity and improving ecological connectivity. I had a hand in helping shape the park landscape, contributing in small ways such as upcycling logs to make wooden furniture, and in more significant ways such as overseeing the developments of Coastal PlayGrove, Raintree Cove, and Cyclist Park. It was rewarding to see visitors enjoying these new spaces upon their completion.
In my second posting as a media manager with the Communications team, I helped curate strategic communications plans relating to varied issues; and I worked with colleagues and stakeholders to garner media coverage for NParks and our projects. My work included crafting responses to media queries, facilitating filming and interviews, and organising media events. It was always exciting to preview the new parks before they opened, and I enjoyed working out how to showcase them at their best through media events. I was also exposed to content creation for NParks' social media platforms to engage a wider audience about the flora and fauna in our City in Nature. This role broadened my perspective on various topics related to NParks. I also made new friends from different departments and learnt more about the work they do.
Here I am today, a biodiversity manager at the National Biodiversity Centre. I am part of the team that provides an assessment of the biodiversity aspect of developments. We organise and carry out surveys to understand the biodiversity present in a location and offer advice on land use planning. I am also in charge of the Species Recovery Programme for mangrove fireflies, where I plan, coordinate, and execute surveys and conduct analysis. It feels good to be in the field, even when I get wet and muddy!
TOK YIN XIN
NParks Undergraduate Scholarship
From: Bachelor of Science in Ecology and Environmental Biology, Imperial College London
Now: Senior Manager, Biodiversity (Terrestrial)
More Articles