NUS Merit Scholar Teo Zhi Sheng has since finished his first year at the University, and his experience is nothing short of enriching and fulfilling.
Hear from Teo on his take on the NUS Business Administration curriculum and how the bond-free scholarship offers him peace of mind to freely explore his career options. He will also share about the Business School's unique scholarship assessment process involving role plays, and amaze you with a list of CCAs and projects he has since been a part of that will make you go, "You mean you did all that in one year?"
Hold on to your seats and read on!
A Clear Choice
I was convinced that an education with a university of global reputation and prestige like NUS was the right choice. I could also take advantage of the University's Grade-Free Scheme in Year 1 to prepare myself for a smooth transition from National Service to university life.
I decided to pursue an education in Business Administration (BA) because of its versatile and flexible curriculum. Offering a wide spectrum of seven business specialisations, the NUS BA programme gave me a sense of assurance that my course of study will remain relevant in the VUCA (Volatile, Uncertain, Complex, and Ambiguous) world we live in today. NUS' emphasis on experiential learning also meant that I could take up a second major in Business Analytics, complementing my education with computing skillsets and broadening my career prospects.
Taking Up the NUS Merit Scholarship
The NUS Merit Scholarship being bond-free while covering my tuition fees allows me to freely explore career and internship options with a peace of mind. The guaranteed offer for an overseas Student Exchange Programme was also a huge pull factor that would bring more colour to my NUS experience and expand my worldview.
Since I live independently on campus, the living allowance provided by the scholarship helps support my financial expenses. And I was confident that the NUS Merit Scholarship would send a strong signal to future employers of my capabilities and character, serving as a distinguishing factor.
A Unique Assessment Process
The online scholarship application was relatively straightforward, requiring the submission of an essay and other supporting documents. What was interesting was the follow-up assessment required by the NUS Business School, involving an assessment centre and a psychological assessment.
For the assessment centre, we would roleplay as department heads of a mock company and discuss business strategies in a corporate setting. The overall process was simple and enjoyable! It was also a great learning opportunity to understand how class participation works in NUS.
Qualities of a Scholar
I humbly believe that I was awarded the scholarship due to my academic performance in the GCE A-Levels and my holistic experiences throughout Hwa Chong Institution, where I spearheaded volunteering initiatives and was a part of the cross-country team. I was also fortunate and grateful to have the support of the people around me, especially my two referees for the scholarship who had believed in my aptitude. Being awarded the scholarship affirms my past experiences that laid the groundwork for my university approach and continues to motivate me to excel.
In my opinion, having a positive attitude goes a long way, and it does not exclusively apply to scholars. A positive attitude equips one with the tenacity to remain unfazed in times of challenges and the courage to venture into new experiences. A scholar should also possess the know-how of working in synergy with others and the intellectual humility when leading a team.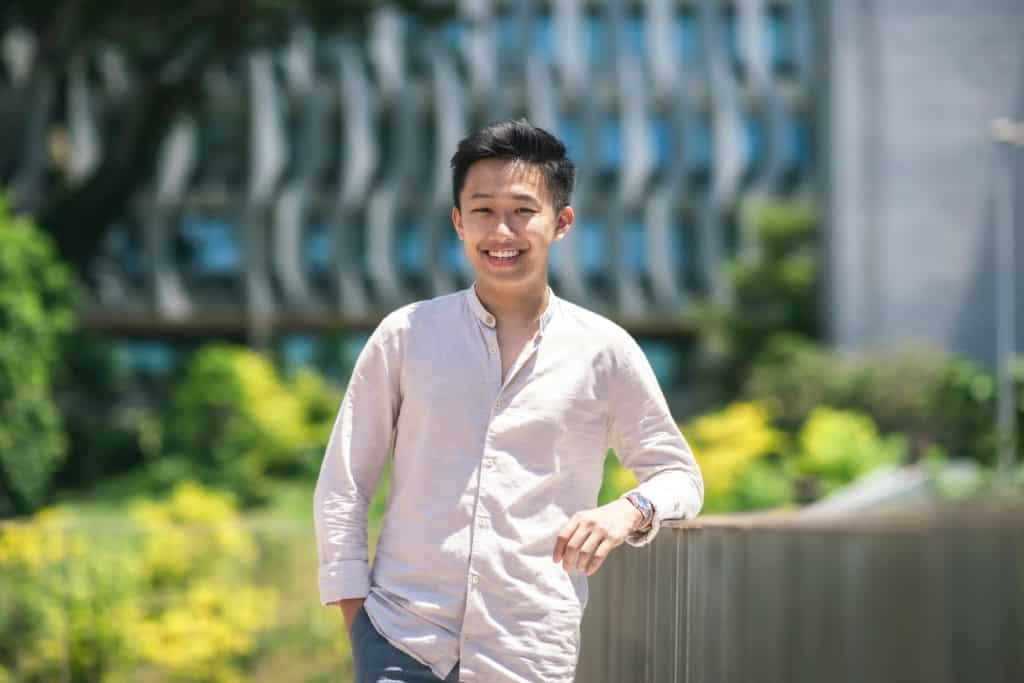 A Big Year of Learning & Experiences
I have been pushed beyond my limits and grown tremendously in the past year with NUS. The rigour of the curriculum continues to keep me challenged and motivated, and living in Kent Ridge Hall has provided me with the opportunity to explore my interests.
Being involved in six hall CCAs, I have learnt to manage my time. In the process, I have also forged meaningful connections and lasting memories, making all these worthwhile.
One of the key highlights is to be a part of the Kent Ridge Volunteering (KRV) that aligns with my passion for community service. Moving forward, I will be serving as the KRV Vice-Chairperson, and I am incredibly excited about the opportunity to lead seven community service projects and create over 200 volunteering opportunities.
I am also involved in the NUS Investment Society, where I serve as an Equity Research Analyst. Working with like-minded individuals has equipped me with relevant analytical and research skillsets for my future career. With NUS Invest, I have honed my pitching and communication skills, and I am proud to have been a part of the team
that has emerged champion at the NUS-SGX Stock Pitch Competition 2022.
Such an enriching first year, jam-packed with valuable experiences and learning opportunities, would not have been possible without the NUS Merit Scholarship—an honour I am grateful to have received.
---
TEO ZHI SHENG
NUS Global Merit Scholarship
Now: Business Administration, Year 1, National University of Singapore
From: Hwa Chong Junior College
More Articles