Currently situated and studying in Japan, Global Leader International Student Scholar Wang Yuelin, 21, describes herself as one who enjoys challenges and stepping out of her comfort zone. Her adventurous spirit has attracted rich knowledge and experiences which have groomed her into an open-minded and well-informed individual. Her penchant for international relations has inspired her to pursue a career in diplomacy.
I am a Singaporean student currently studying in Japan. Academic interests aside, one of the reasons which encouraged me to venture into Japan is my enthusiasm for Japanese culture, language, and people. I am someone who likes to challenge myself and step out of my comfort zone. My motto in life is to live with passion, lead with compassion, and as the saying goes, "Stay hungry, stay foolish."
What Kind of Scholarship Did You Receive?
I received the Global Leader International Student Scholarship (for incoming students) offered by Waseda University to privately- financed international students who are deemed as having an outstanding academic potential based on a holistic evaluation comprising application documents, academic records, and/or an interview.
Share Something Which Positively Surprised You About Your Scholarship Programme.
One of the attractive points of this programme is that there are no bonds involved. Upon applying to the program at the university, students are considered for this scholarship without the need for a separate application. Most eligible students are notified during the announcement of screening results. Scholarships could be an important factor for students who need financial support when deciding their choice of university.
Share Some of Your Views on Why You Could Receive This Outstanding Scholarship.
I believe I received this scholarship because of my academic potential displayed in my application documents. In terms of academics, I submitted standardised test results. I believe there were other factors such as my recommendation letters, essays, co-curricular activities, and community involvement projects which also counted towards why I received this scholarship.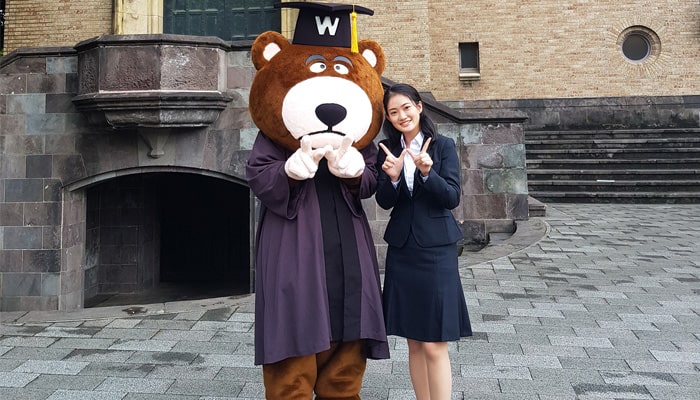 What were your most memorable experiences as an overseas scholar?
Personally, I have acquired many memorable experiences. Academically, I was exposed to new knowledge, as well as, a wide spectrum of differing perspectives and ideas, which boosted my critical thinking skills and inspired further learning. My most memorable learning experiences came from the interactions with my peers and from my observations of my surroundings. I am deeply grateful for the many unique experiences gathered when I was positioned in a completely new environment, as it forced me to step out of my comfort zone. Moreover, I believe my time spent in circle activities is one I will never forget. I had the opportunity to visit Showa Village in Fukushima Prefecture as part of a project. Though I only spoke basic Japanese at that time, I was able to interact with the local villagers there and learned much about the Japanese society and culture through an admix of words, observations and participation. This experience allowed me to not stay confined to what I have read or thought I knew, but to learn anew by seeing, hearing, experiencing, interacting, and reflecting daily.
Explain one challenge you had to overcome as a student.
As university students, we are treated and expected to behave as an adult. Hence, we are given greater control over how we spend our time, what we study, and how much we study. Unlike secondary school, there is no fixed content to study for a particular subject, nor a limit on how much you can learn about a certain topic of interest. Here, the definition of doing well is no longer defined by scoring well on an exam. Simply studying what is taught in lectures no longer guarantees a good grade. At first, it was difficult to be suddenly held almost fully responsible for my education. It took many constant reminders, reflections, and self-regulation to make sure I was not wasting my precious time on unimportant things. This is especially pivotal given how fast time flies in university.
What are some of your career goals?
Having a great interest in the interactions between different leaders in our world, I realised the importance of collaboration and mutual independence among them. Hence, one of my career goals is to become a diplomat or undertake a career that allows me to employ my acquired knowledge and experiences. More specifically, I wish to play a part in the international scene, whether as a communication specialist working for a global NGO, or as an international marketing manager for companies that collaborate across borders. I wish to act as a link between leaders, endeavoring to facilitate peaceful cooperation and successful negotiations.
How has your scholarship and studying in Japan opened opportunities for your future?
My scholarship and studies in Japan have broadened my perspectives, providing me with the opportunity to learn a new language, gain a better understanding and deeper knowledge of the Japanese economy and society, and build a network of friends in the country, among many other benefits. I believe all of the aforementioned have opened new doors of opportunities in my career and beyond. My unique experiences have shaped me into a better and more well-informed individual—that is the greatest implicit gift.
WANG YUELIN
Global Leader International Student Scholarship (for incoming students)
Age: 21
Now: Bachelor of Arts in Economics, Waseda University, Tokyo, Japan
From: Hwa Chong Institution
More Articles