As a student-athlete and NUS Sports Scholar, Levyn Wong has honed a variety of skills which has contributed to her success both on and off the field. She shares how cultivating resilience has enabled her to cross hurdles and bounce back after encountering setbacks in life. Apart from actively participating in a myriad of faculty and hall-related sporting events involving soccer, volleyball, road relay and track games, Levyn signed up to become a committee member of RUNNUS2020, an annual University-wide event.
Why Did You Choose To Pursue Your Course of Study at NUS?
I chose to pursue Life Sciences in NUS because of the versatility of this degree and my general interest in Biology. This degree equips students with a wide array of soft skills that are important and relevant to multiple industries. Moreover, I had enjoyed Biology classes in Dunman High School, and had even participated in the Biology Olympiad in Secondary 4. Additionally, I opted for a second major in Management to not only feed my curiosity on how business is conducted, but also to widen my career options in the future. Thus, I chose NUS Life Sciences as it allows me to discover my interests and enjoy while I learn.
Why Did You Accept the NUS Sports Scholarship?
I accepted the NUS Sports Scholarship because its tuition fee coverage and allowances not only alleviates the financial burden on my parents, but also allows me to focus on trainings during the holidays, rather than having to worry about finding a part-time job to cover my university expenses. In addition, the scholarship's coverage of hostel fees was especially helpful to me. With my busy training schedule, staying on campus allowed me to have additional time for my studies, which was otherwise spent travelling back and forth between campus and my home. More importantly, I felt that the NUS Sports Scholarship is an affirmation of my past efforts to excel, while providing additional support for me to further pursue my sporting endeavours.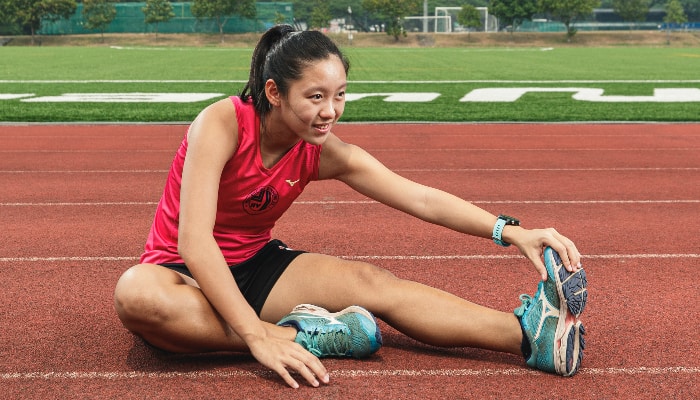 What Was the Scholarship Selection Process Like?
The selection process was a review of my past sporting achievements and academic performance, followed by a panel interview, comprising of 5 to 6 Professors and Deans holding various portfolios. The panel asked me about my interest in the NUS Sports Scholarship, and also posed questions to find out more about me as an individual. Although I struggled at the beginning of the interview, I kept in mind the panel's search for a holistic student who excels beyond sports, which led me to share more about myself in various aspects, be it in sports or non-sports-related areas.
Why Do You Think You Were Awarded the Scholarship, and What Are the Qualities a Scholar Should Possess?
I am grateful to be awarded the NUS Sports Scholarship through my sporting achievements. I felt that confidence in tackling the interview questions was a big plus point for me, as it showed preparedness and self-belief, thereby leaving a lasting impact on the interviewers. During the interview, I also shared about my passion for Track and Field, and how much the scholarship meant to me, which was especially important given that the scholarship is awarded to those with outstanding sporting achievements.
Personally, my take on the qualities of a Sports Scholar includes discipline, resilience and a heart to serve the community. Discipline in terms of being able to balance academics with sports trainings as a student-athlete, while not completely neglecting family and friends. Resilience in terms of pressing on after meeting with setbacks, whether in sports or academics, and standing back up stronger after crossing each hurdle. A heart to serve the community is also important, because while the scholarship provides support for our studies and sports training, we cannot take this for granted. Instead, we should reciprocate the support we receive by serving the needs of others in our capacity as students.
What Are the Benefits of Taking up the NUS Sports Scholarship?
Apart from the financial benefits, the NUS Sports Scholarship guarantees an on-campus accommodation for the first 2 years and also guarantees a semester in the NUS Student Exchange Programme (SEP). In addition, this scholarship is bond-free, which allows me to pursue a career of my choice after graduation. This provides me with the flexibility to continue discovering my interest, rather than being bonded to a particular organisation at the start of my undergraduate course.
How Has Your NUS Experience Been, and What Programmes and Activities Have You Participated in So Far?
My NUS experience has been an exciting one, filled with faculty, hall and varsity commitments. This experience began with the freshmen orientation camps I had participated in, from both the Faculty of Science and Temasek Hall. The friendships forged through these camps were my support and motivation to push through tough times in school.
In my first year, I took part in the Inter-Faculty Games (IFG), representing the Faculty of Science in Soccer and Track. I was exhilarated that I had a platform to play soccer competitively as I had previously been doing so recreationally. In addition, I also spent a portion of my time training and participating in other sporting events, such as the Institute-Varsity-Polytechnic (IVP) for Track and the Inter-Hall Games (IHG). As an athlete, I enjoy engaging in sports and am very thankful to Temasek Hall for providing me the opportunity to participate in different sports namely soccer, volleyball, road relay and track. Beyond camps, sports and hall, I was keen on being part of a university-wide event and thus also signed up as a committee member for RUNNUS2020 – an annual NUS-wide run event.
All in all, these positive experiences made my first year in NUS memorable and I am looking forward to more of such memories over the next few years!
WONG SI MIN, LEVYN
NUS Sports Scholarship
Age: 20
Attained: Life Sciences with Second Major in Management, Year 2
From: Dunman High School
More Articles