NUS Sports Scholar Tammy Tan is an aspiring dentist and a competitive tennis student-athlete. Learn how she balances sports and academics while making time to coach the recreational team, participate in community projects, and fully immerse in campus life.
The Best of Both Worlds
I chose to study at NUS because I want to fulfil my dream of becoming a dentist with the NUS Dentistry programme, and the school has the best facilities and environment for me to pursue my passion for tennis. It meant that I could have the best of both worlds that are important to me without giving up one or the other.
The Interview
My interview for the NUS Sports Scholarship was a unique experience, given that it was during the "circuit breaker" phase when everyone had to grapple with the new norm of virtual interviews. Fortunately, the interview panel was friendly, and that helped rid me of my nerves rather quickly. I put my best foot forward, and the rest was history.
Scholarship Perks
The NUS Sports Scholarship has since opened many doors for me. For example, I had the opportunity to participate in NUS' Seeds of Good Programme (SOGP), where we applied our skills and knowledge in real-life community projects to bring positive, meaningful impact. I got to collaborate with scholars from other faculties and interact with leaders from the sporting and academic communities. Meeting people with different experiences and insights gave me a lot to self-reflect. Through SOGP, I learnt to think critically and become more self-aware, not to mention the valuable friendships I forged along the way.
And thanks to the accommodation allowance provided by the scholarship, I can fully immerse myself in an enriching experience of the highly anticipated campus life.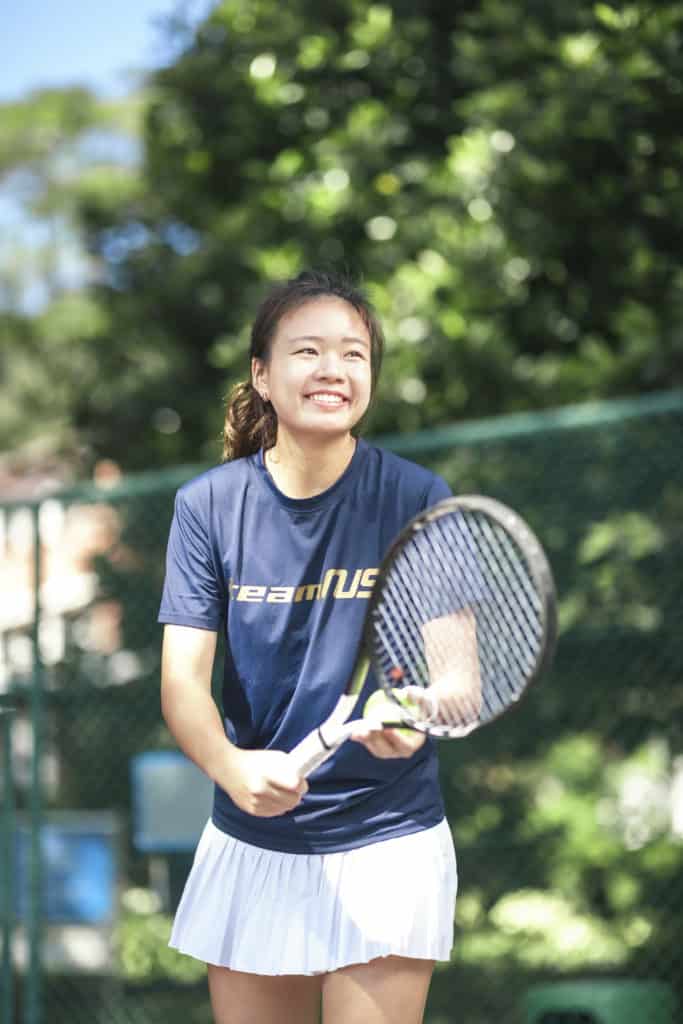 What it Means to be a Sports Scholar
Beyond the tangible contributions of representing the school in their sports field, I believe that a sports scholar should be able to lead by example, set the standards for how an athlete should behave, and advocate the love for the sport to their peers.
I take pride in living up to the role of an NUS Sports Scholar. Besides contributing actively to the University's sporting scene, I also coach the school's recreational tennis team. I strive to be a role model to others, showing that it is possible to push beyond one's limits to excel in sports and academics. I owe it to sports for my self- discipline and the ability to perform under pressure. These are the very values I bring with me into the classroom.
Small Victories
It is hard to tell an athlete not to focus on winning the game and count their medals, but I have since learnt to find fulfilment in many other unexpected areas, such as passing on my passion for the sport to others. Through coaching, I not only hone my leadership skills but also gain inspiration from the positive attitudes of recreational players, who are always eager to improve their game.
Nurturing Your Passions
Whether you are a competitive athlete looking to pursue your sport further or a recreational player who loves
to stay active and keep fit, you will find a place in the inclusive NUS sporting scene.
This doesn't just apply to sports. Whatever your passion is, you can count on NUS and its scholarship offerings to help nurture them while you pursue higher learning. You will also find abundant opportunities at the University to apply your interests, skills, and knowledge to give back meaningfully to the community.
---
TAN KAY SHAN TAMMY
NUS Sports Scholarship
Now: Dentistry, Year 2, National University of Singapore
From: Raffles Institution
More Articles