As a Healthcare Scholar, Lu Yen Ling shares how MOH Holdings' Healthcare Merit Award has helped to fulfill her passion for improving the well-being of others.
Why Did You Choose To Take up a Healthcare Scholarship?
The Healthcare Scholarship was an enticing opportunity for me to realise and pursue my long-standing interest in the healthcare industry. The vision of MOH to champion a healthy nation and ensure that people live well live long and with a peace of mind, also strongly resonates with me as I watch my loved ones and relatives age.
What Sparked Your Interest To Pursue a Degree in Nursing?
I have had many experiences that have led me to develop a keen interest in the healthcare sector. A great motivation to pursue nursing came when my grandmother suddenly took ill. Her physical abilities deteriorated, and she went from being a totally independent "super housewife" who did all the cooking, cleaning, purchasing groceries, and so on to being unable to even leave the bed and constantly in pain. The doctors eventually diagnosed her with Chronic Inflammatory Demyelinating Polyneuropathy (CIDP).
With the illness, she lost her ability to use her limbs, and even simple tasks like feeding herself became a challenge. It was heart-wrenching to watch her deteriorate physically, psychologically and emotionally. I helped to take care of her, and it was disorienting especially when there was no one at home who had any healthcare training or knowledge. Everyone was reading articles online from questionable sources and trying to introduce various home remedies. It was then that I realised the importance of having clinical knowledge and my interest in nursing took root. Additionally, I also enjoy learning valuable skills that are certainly beneficial in life.
How Has Your Experience Been as a Nursing Student So Far? Have You Experienced Any Interesting or Memorable Moments as a Nursing Student?
My journey has been enjoyable and interesting. There hasn't been a dull moment in nursing. Each semester exposes us to a variety of specialities through interesting modules and practical opportunities in the school labs. We also have intra- and inter-semester clinical attachments throughout the year at various healthcare institutions, including public acute hospitals (e.g. Tan Tock Seng Hospital, Changi General Hospital), private hospitals (e.g. Raffles Hospital, Mount Alvernia Hospital), polyclinics, Institute of Mental Health, long-term healthcare institutions and even home nursing organisations.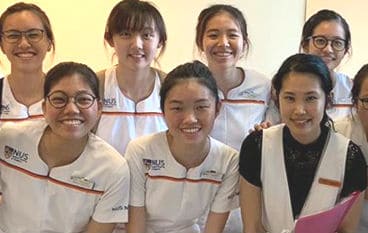 It's certainly eye-opening and useful to see how theoretical knowledge gets applied in real life. As a student, being able to have hands-on experiences on receptive patients in the wards never fails to make my day. It also helps me learn better. Dealing with difficulties, uncertainties, challenges and rejections are part and parcel of student attachment programmes, but an appreciative patient or their family member always leaves me feeling warm and encouraged.
What Opportunities for Personal and Professional Development Has the Healthcare Scholarship Given You?
Various activities and engagement sessions are available for a Healthcare Scholar. With the Healthcare Scholarship, I have gained greater exposure to the healthcare sector and I have been very lucky to have gotten the privilege to give back in many ways. Apart from attending the scholars' induction programme – which comprises the Healthcare Scholars Induction Camp (HSIC), service-learning workshop and induction course – when I was first awarded the scholarship in 2017, I was invited to emcee for the Healthcare Scholarships Award Ceremony 2018 and plan HSIC 2019. In addition, I will be going on a summer exchange programme this year in the United Kingdom under the developmental programme sponsored by MOHH. There are also many service-learning opportunities provided throughout the year.
What Qualities Do You Think Are Necessary to Work in the Public Healthcare Sector?
Integrity, service and excellence are critical. To work in the public healthcare sector, individual character traits are important in portraying the right attitude and image too. There is a constant need to strive to provide fair and quality service for everyone professionally and with humility.
Do You Have Any Advice for Aspiring Students Who Are Considering Taking up a Healthcare Scholarship?
A genuine desire to promote wellness and a sincere passion for healthcare is a must. If you checked these two boxes, then come forward to apply for a Healthcare Scholarship. You'll never know until you try!
LU YEN LING
Healthcare Merit Award
Attained: 'A' levels
Now: Year 2 Alice Lee Centre for Nursing Studies at National University of Singapore (NUS)
From: Temasek Junior College
More Articles