NUS Global Merit Scholar Eleyn knows that—which is why she embraces her higher education journey with an open mind and energetic spirit, constantly exploring new experiences and always ready to challenge herself to consider differing viewpoints.
Eleyn is an NUS Global Merit Scholar and is currently in her first year of the Philosophy, Politics, and Economics (PPE) Programme at the Faculty of Arts and Social Sciences. She believes that the interdisciplinary approach in her PPE studies can come in handy when making informed decisions as a discerning global citizen of the increasingly complex modern society—where many of the issues affecting our communities are multidimensional and having multiple perspectives can enable one to shape the future world responsibly.
As adventurous and multifaceted as her intellectual interests, Eleyn has since participated in a broad range of special programmes, interest groups, and CCAs in just her first semester at NUS. So, let's learn to be curious like her and take a sneak peek into her vibrant university life.
I elected to study PPE because the curriculum promises equal access to the modules in the three well-established disciplines of humanities and social science— Philosophy, Politics, and Economics, allowing me to pursue both the breadth and depth of my interdisciplinary studies. PPE can also be taken up with other programmes such as the University Scholars Programme (USP) that has a multidisciplinary emphasis on critical thinking, amongst other skills, and combines the perspectives of science and humanities.
Why Did I Apply for the NUS Global Merit Scholarship?
Well, "global" is the keyword, as I seek to pursue opportunities beyond the local classroom to expand my worldview. The NUS Global Merit Scholarship offers a myriad of global opportunities, ranging from overseas academic programmes to NUS Overseas Colleges. I was also drawn to the guaranteed offer of a one-semester Student Exchange Programme overseas.
The scholarship prioritises your admission into a few NUS special programmes, such as the USP and the Residential College Programme. These programmes encourage the scholar to be active beyond focusing on academics alone, ensuring a holistic university experience.
Lovin' Freedom. A scholarship offers financial freedom. But what matters more to me is the other
form of freedom that the NUS Global Merit Scholarship offers—a bond free scholarship, giving me the flexibility to choose my own career path and make the most out of my university experience. I do not have to worry about changing interests in the future, and I would say that I've become more daring in exploring new things with this freedom.
Quite unlike what I was expecting, I cruised through the NUS Scholarships selection process. When submitting my online application, I had to share in my personal statement why I should be offered a scholarship and the NUS values I exemplified. Additional information regarding outstanding achievements, commitments and enterprising experiences were also encouraged. I was then shortlisted for a virtual interview. The entire process, from application to being notified of the outcome, took approximately three months. I am grateful to be recognised for my all-rounded excellence in academic and extra-curricular domains, and I am honoured to receive the NUS Global Merit Scholarship.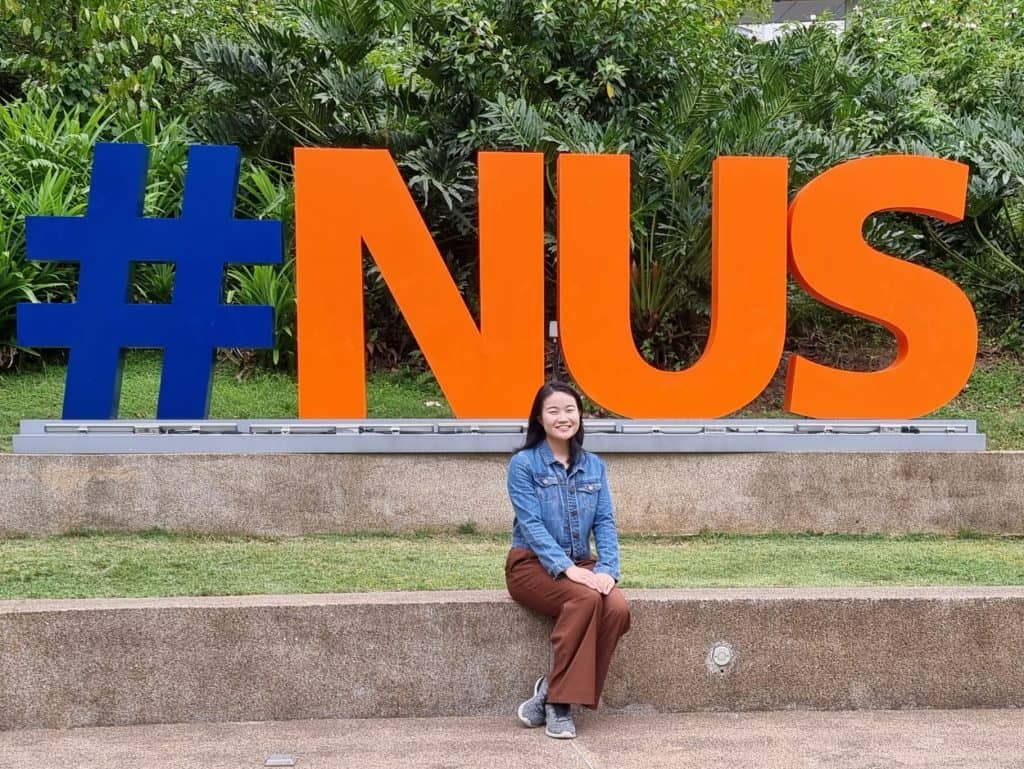 Four Core Values
Having begun my journey, I would say the four core values that pave the way to achieving success in university are as follows:
Resilience: As university life can be challenging, having the resilience to push through busy schedules and make the most of the opportunities is crucial.
Adaptability: Being able to adapt to changes in schedule is important when taking on more commitments as a scholar.
Innovation: Having an innovative mind to devise creative solutions to daily problems certainly helps.
Respect: Finally, respect and intellectual humility when interacting with peers from different walks of life are fundamental to forging meaningful connections.
Just the first semester and a lot's going on! My NUS experience has been, by far, enriching. Each day brings something worth anticipating. In my first semester, I challenged myself to take up archery as a sports CCA. The seniors were welcoming and patient. With the pandemic restrictions, training was brought online, further encouraging me to be an active learner—to show that I appreciate the time put in by our seniors.
I also participated in USP interest groups, such as badminton and dodgeball, where I interacted with peers from different faculties and majors across the university. I have forged great friendships, acknowledging that we add to one another's strengths, pushing us to maximise our potential. I am also a member of the PPE club, where I oversee the publication of the club's annual academic journal comprising self-initiated member contributions.
I often wonder how I managed all these, but I did! I look forward to creating more meaningful memories in the upcoming semester.
ELEYN YAP TENG YING
NUS Global Merit Scholarship
Now: Philosophy, Politics, and Economics (PPE), Year 1, National University of Singapore
From: Hwa Chong Institution
More Articles