Showcasing strong social skills, NUS Global Merit Scholar Pearline Pang, 19, decided to be a friend rather than a foe during her group interview. Cutting through the competitive tension, she allowed her confident personality to shine through and empowered her peers to do the same.
Why Did You Choose To Pursue Your Course of Study at NUS?
I chose NUS because I feel that NUS has a very strong student support system in place. Many of the NUS seniors actually went the extra mile and self-organised informal sessions to fill us, juniors, in about what school life at NUS will look like. Along with the numerous student committees who so dedicatedly organise various events for the student body, I must say that the student community here share an extremely strong bond – do not worry that you will be left out as there will always be something suitable for you!
Why Did You Accept the NUS Global Merit Scholarship?
I truly hoped to take on a scholarship in order to adequately support myself through university and to lighten my parents' financial burden. To me, a scholarship is more of a necessity than a good-to-have.
Although I received multiple scholarship offers, the key reason why I accepted the NUS Global Merit Scholarship is because I really love how the scholarship provides me with the freedom to choose my future career pathway. While there are quite a number of scholarships available, there are very few non-bonded ones like the NUS Global Merit Scholarship.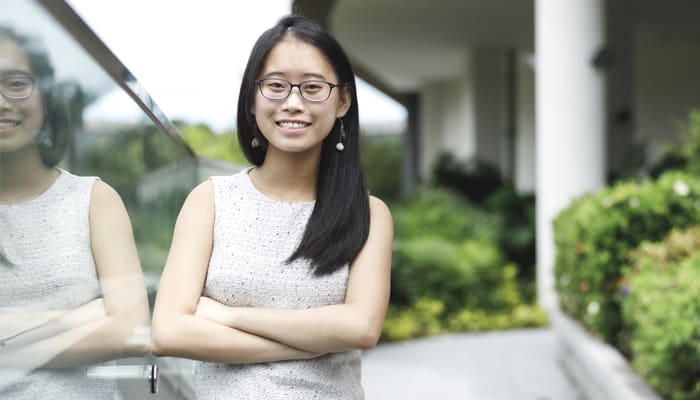 What Was the Scholarship Selection Process Like?
As part of my scholarship application, I had to submit a personal statement. Thereafter, I was informed to go through a group case interview. I felt that the personal statement enabled me to share my story and my key values, while the interview was more task-oriented and thus enabled more of my skills and capabilities to shine through.
Admittedly, the interview process can be a little intimidating given its fast-paced nature. Being interviewed together as a group also contributed to a competitive atmosphere. However, instead of merely viewing it as part of the selection process, taking it as an opportunity to learn and to make friends enabled me to perform well during the interview. For instance, rather than competing to speak up, I gave my best and also offered others who were quieter in the group a chance to speak as well, just the way I normally would in any given situation.
As a result, I ended up thoroughly enjoying the intellectual stimulus from the interview and also made a new friend out of it!
Why Do You Think You Were Awarded the Scholarship, and What Are the Qualities a Scholar Should Possess?
I believe that a scholar should possess qualities beyond academic grades, and have the heart to give back to society. For myself, I was particularly passionate about numerous social causes. Therefore, I was involved in several community service projects and also started my own mental health project in Junior College. As such, I believe that I was awarded the scholarship as my passion for community service and my willingness to give back shone through during the scholarship selections.
What Are the Benefits of Taking up the NUS Global Merit Scholarship?
The NUS Global Merit Scholarship covers tuition fees and provides an annual living allowance. It also provides coverage for the main bulk of the hostel fees, as well as, an overseas allowance if scholars participate in the Student Exchange/NUS Overseas Colleges Programme.
How Has Your NUS Experience Been, and What Programmes and Activities Have You Participated in So Far?
I have had quite an enjoyable experience thus far!
I joined the training programme of Conjunct Consulting (NUS Chapter). It truly was a golden opportunity, as it enabled me to learn a lot more about consulting and also honed my strategic thinking skills. I particularly appreciated the hands-on learning experience, where we often had multiple breakout discussions, activities and group projects. The strong network of external professionals truly impressed me, and many of them offered us very valuable advice and feedback for our work.
Lastly, I also participated in two mentorship programmes, namely the NUS Pathfinders and the Accelerate (by 180 Degrees Consulting; a student-led consultancy). Both of these programmes linked me up with a senior going into the fields of asset management in finance and consulting that gave me opportunities to seek guidance from them. Our mentors have been very supportive, encouraging and informative. Not only have I learnt a lot more about what to expect in my upcoming university life, I am also very thankful for the relationships that I have formed with my mentors!
PEARLINE PANG XIN SHUEN
NUS Global Merit Scholarship
Age: 19
Now: Double Degree Programme in Business Administration and Economics, NUS
From: Raffles Institution
More Articles