Keeping citizens at the heart of what he does, NEA Singapore Sustainability Scholar Pang Hao Yang, 26, undertook additional roles to combat covid-19 and dengue simultaneously. Prioritising the safety of residents, he leads a team of dedicated frontline workers who adapt and execute measures according to the challenging times.
Why Did You Choose the Singapore Sustainability Scholarship (SSS)?
First and foremost, NEA's vision and mission are in line with my personal belief that high standards of public health are important in ensuring the safety of future generations. I also chose the SSS for the wide spectrum of work that NEA is responsible for. The breadth of work in NEA and the resulting exposure from it is amazing and closely suits my inquisitive personality. Furthermore, I was happy to seize the opportunity to study overseas, which I would otherwise have not been able to do without the SSS award. To this day, I still feel blessed and humbled to be given this opportunity.
You Took a (Bachelors) Degree in Biochemistry at Imperial College London Followed by a Master of Public Health at Imperial College London. What Sparked Your Interest in This Field?
I chose two different studies when I pursued my Bachelor and Master degrees, both of which are relevant to NEA's broad spectrum of work. My choice of Biochemistry stemmed from my love for biosciences. It was an interest I cultivated in school and I am grateful to my teachers at ACS (Independent) who fostered the inquisitive and analytical side of me. I continued to pursue this interest in university, to deepen my understanding of what makes lifeforms tick. Most people may relate biochemistry to biology. It is a sub-discipline of both biology and chemistry.
My decision to pursue my Masters in Public Health derived from my desire to broaden my understanding of the interconnectivity between health and sciences in relation to the real world. The Masters program offered by Imperial College London gave me a better understanding of the relationship between an individual's health and community's health, as well as, how to prevent the spread of diseases. The study of public health is especially apt in this current climate as we face the largest global pandemic seen after nearly over a hundred years. The definition of "Public Health" is broad, and I am still grappling to fully understand every facet of it.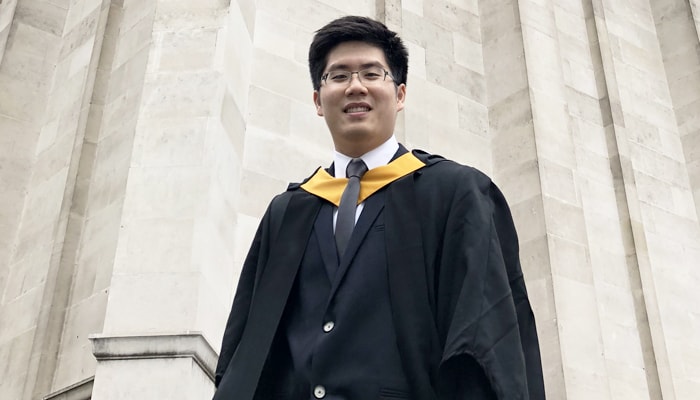 Share With Us Your Working Experience in NEA. How Did You Apply What You Have Learnt to Your Current Role?
I have only been working at NEA for slightly over a year, and there is never a dull moment. I am currently working as a Vector Control Team Leader with one of NEA's regional offices where I plan the vector control operations, look at reducing the likelihood of disease transmission that could be spread from biological vectors. Battling dengue remains our greatest challenge. As a team leader, I plan the deployment of ground officers for inspection duties where we check on sources of mosquito breeding, assess and execute operational measures which include thermal fogging, and carry out other management measures for dengue clusters. My team and I are certainly and constantly kept on our toes.
The knowledge gained from my Masters study on epidemiology and other public health practices were certainly useful and has direct application to my work in managing vector issues.
With COVID-19 Situation, What Are the Challenges You Faced in Your Work and How Did You Overcome Them?
The Covid-19 situation accentuated every existing challenge regarding environmental public health. It forced us to re-evaluate how our dengue inspections had to be carried out, and impressed the need for our officers to undertake a myriad of additional precautions when conducting inspections. The announcement of the circuit breaker period also meant that my colleagues and I had to shoulder additional roles to support the national efforts to slow the spread of Covid-19. For instance, many of us also took on safe distancing enforcement roles at markets and hawker centres on top of our daily work.
It was not easy to adjust and adapt to these changes. Health crises do not wait or consider mankind. The only option was to steel ourselves and push forward; to do whatever we could in the safest way possible during this COVID-19 pandemic, in order to ensure that the dengue outbreak did not spiral out of control.
What Advice Can You Give To Aspiring Scholars Who Are Considering Taking the SSS Scholarship or a Career With the Public Service and NEA?
To those considering the SSS scholarship or joining NEA, I would suggest putting careful thought into what the SSS or NEA can offer you, and also what you can offer to NEA. Be open to new experiences and be prepared to embrace challenges. And to those considering a career in the Public Service sector, make sure that you join the team for the right reasons, that is, placing the citizens at the heart of what we do.
PANG HAO YANG
Singapore Sustainability Scholarship
Age: 26
Attained: Bachelor of Science in Biochemistry, Imperial College London
Master of Public Health, Imperial College London
Now: Assistant Manager, Environmental Public Health Ops Group, Eastern Regional Office, Sanitation & Vector Control Branch
From: Anglo Chinese School (Independent)
More Articles