Singapore Sustainability Scholar Ning Ginn shares why and how she sees herself being a steward of SFA's mission in ensuring and securing a supply of safe food.
Why Did You Decide to Apply for the Singapore Sustainability Scholarship?
I believe that Singapore can and should build a resilient supply of locally produced food. I am passionate about farming, particularly in boosting the efficiency and sustainability of farms in Singapore. My interest in farming was first sparked by my encounter with my secondary school's backyard garden. I was involved in the building and maintenance of this unique community garden, where we grew edible plants like ginger, basil and passionfruit. Since then, I have actively visited and volunteered at community farms across Singapore, to better understand the landscape of the industry. Thus, I applied for the Singapore Sustainability Scholarship as I hope to play my part in building a resilient and sustainable food supply for Singapore.
What Was Your Biggest Takeaway During Your University Days?
As an undergraduate pursuing the Bachelor of Environmental Studies (BES) programme at the National University of Singapore (NUS), it has given me insight into the importance of sustainability, especially with the global climate crisis we face today. Sustainability is a recurring theme across many BES modules, from environmental economics to biodiversity and ecology modules. My interactions with professors and fellow course mates have also provided me fresh perspectives of the natural environment, and how we should produce and utilise resources in a sustainable manner. The recent COVID-19 crisis has also shown that food supply disruptions can happen at any time, exacerbating the effects brought about by climate change. This further under- scores this need for food sustainability and the urgent need to boost Singapore's local food production.
How Do You Think You Can Apply What You Have Learnt in School to the Future Work in SFA?
Sustainability is one of the key concepts I have learnt from my time in the university programme. Therefore, I believe that sustainability should be amalgamated with efficiency aims when conceptualising novel innovations with technology for Singapore's urban farming landscape. This is especially important as we want to enable the local farming industry to scale up and tackle SFA's "30 by 30" goal, which is to meet 30 percent of Singapore's nutritional needs locally by 2030.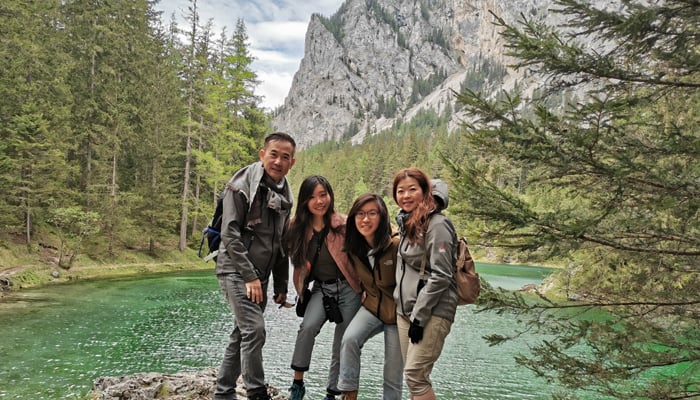 What Are You Looking Forward to in Your SFA Internship Experience?
I had the opportunity to intern at SFA's Urban Food Solutions (UFS) division, where I learnt about the key technologies for ur- ban agriculture in Singapore. This was a great opportunity for me to gain a more comprehensive understanding of technological innovations that have helped Singapore become a global leader in agri-tech solutions, and to contribute to developments in this area.
Share Your Opportunity for Exposure Through an Exchange Experience That's Sponsored by SFA.
In 2019, I was given the opportunity to take part in an exchange programme organised jointly by NUS and Hokkaido University, which focused on the comparative study of agri-science practices in Japan and Singapore. For the Japan segment, we learnt about salient developments in farming technology, agricultural supply chains and irrigation systems. This was interesting to learn about and to see how certain practices can be applied back home in Singapore.
In addition, each lecture was accompanied by a field trip, which made the content come alive to me. For example, we visited places such as the public wholesale market of Sapporo and the Katsurazawa dam. My most memorable experience was when we got our hands dirty digging up potatoes grown on Hokkai- do University's very own experimental farm. We ate our freshly harvested potatoes for dinner that night, and the Japanese students were even kind enough to prepare and teach us how to cook Hokkaido's Genghis Khan barbeque. This trip has definitely been one of the highlights of my university life so far.
Share With Us How You See Yourself Contributing to SFA's Work in the Area of Science and Technology.
I hope to be able to apply my knowledge and passion in urban farming to develop sustainable yet productive high-tech food solutions in Singapore. The cumulation of my knowledge gained in university, the experiences during my various volunteering stints and the internship opportunities in SFA have given me a deeper understanding of the Singapore food industry, such that I may be in a position to generate innovative food solutions specific to Singapore's local context.
Why Should Aspiring Scholars Join Take up the Singapore Sustainability Scholarship Offered by SFA?
SFA aims to work with industry and consumers to take on the joint responsibility for food security and food safety assurance from farm to fork. There is a multitude of opportunities available to create change in one most crucial functions of Singapore. If you are interested in ensuring and securing a supply of safe food for all, SFA is the place where you can grow your passion and contribute your expertise to the future of food in Singapore!
TEO NING GINN
Singapore Sustainability Scholarship
Age: 21
Now: Bachelor of Environmental Studies (Biology), NUS
From: Hwa Chong Institution
More Articles