Singapore Sustainability Scholar Germaine Thong shares why and how she sees herself being a steward of SFA's mission in ensuring and securing a supply of safe food.
What Sparked Your Interest in Applying to SFA for the Undergraduate Scholarship?
While I was growing up, I was always curious about food and how it gets delivered to consumers. After learning about SFA through a scholarship fair, I found myself drawn to SFA's mission of ensuring and securing a supply of safe food for Singapore. The complex and multidisciplinary work within SFA, ranging from food safety and food security to international relations, also represents a challenging and purposeful career ahead for me. Thus, I applied for the SFA scholarship as it allows me to combine my love for food with my desire to contribute back to society by ensuring Singapore's food supply resilience.
What Do You Think Makes This Scholarship Stand Out From the Others?
The SFA scholarship is outstanding as the organisation is highly supportive of scholars' overall development and is constantly in touch with us. Through frequent engagement sessions, I was kept abreast of the latest developments within the organisation throughout my undergraduate years. Moreover, SFA ensures that scholars are well-integrated and supported within the organisation through a dedicated buddy and mentor system.
I was provided the opportunity to do an internship with the then, Technology and Industry Development Group under the then, Agri-Food and Veterinary Authority (currently Singapore Food Agency), midway through my studies. As part of the internship, I gained valuable exposure to the innovative aquaculture efforts at SFA's Marine Aquaculture Centre (MAC) on St John's Island. During my time there, I also learnt the importance of continual industry development with local farmers and food businesses. It was eye-opening to witness the dedication of fellow SFA colleagues and the experience reassured me that my future work will be just as fulfilling.
Through the support from the scholarship, I attended an overseas exchange program in Innsbruck, Austria to learn more from the unique agriculture and food processing modules that were not offered in NUS. I had the opportunity to meet professors who were incredibly passionate about food science, building international networks and their interest in Singapore's unique food culture allowed me to share more about our nation. Throughout my travels, I was amazed to witness the strong support shown towards local produce throughout
Europe. These experiences strengthened my conviction to cultivate stronger awareness about locally produced food in Singapore.
Why Did You Choose To Pursue Studies in Food Science and Technology?
Since young, I have been fascinated by food and its relevance to our everyday life. While working at a gelato shop, I was taught by the gelato master how he fine-tuned texture and taste using various machinery and scientific theories. This sparked my interest in learning more about food science and technology. My interest grew steadily over my schooling years as I actively strove to learn more through hands-on research workshops with various Institutes of Higher Learning. Moreover, Food Science and Technology is a highly interdisciplinary course that focuses on practical skills with direct tangible benefits to society. Lastly, with new food research and discoveries every day, I realised that I would hardly get bored from studying this highly challenging and dynamic field. Thus, it was a natural decision for me to pursue my studies in Food Science and Technology.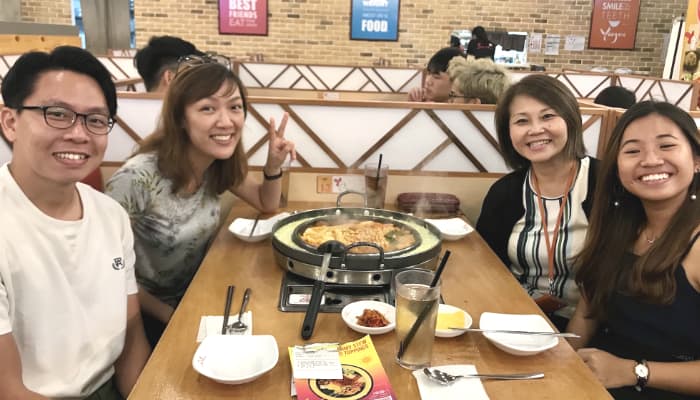 Share With Us How You See Yourself Contributing to SFA'S Work.
As an SFA scholar, I see myself as a steward of SFA's mission and vision and will work hard towards helping to achieving them. Keeping in mind SFA's "30 by 30" goal of producing 30% of our nutritional needs locally by 2030, I geared myself to focus on the optimisation of yield and nutritional content of local vegetable production for my Final Year Project. With the technical knowledge gleaned from my studies, I look forward to working with relevant local food stakeholders such as farmers and businesses to increase the local production of food and promote the consumption of local produce to fellow Singaporeans. This will help us achieve the "30 by 30" goal and reduce our reliance on imports. Together with my colleagues in SFA, I am excited to turn these challenges into strategic advantages and boost Singapore's food security.
What's Your Advice for Aspiring Students Looking To Pursue a Scholarship and Career With SFA?
A scholarship and career with SFA will definitely be a challenging yet rewarding journey. Do give yourself time to find out more about the work that SFA does and whether it aligns with your personal goals. If you relish the challenge of safeguarding Singapore's food security, the SFA scholarship would be an ideal fit for you!
GERMAINE THONG
Singapore Sustainability Scholarship
(Previously known as the NEW Scholarship)
Age: 23
Attained: Bachelor of Science in Food Science and Technology, NUS
Now: Manager (Account Management), Industry Development – Farms Department
From: Victoria Junior College
More Articles