Against a backdrop of transformation and uncertainties facing industries worldwide, professionals are challenged to stay upskilled and relevant to future employers. Thus, education remains an integral investment across all career ventures. In 2020, Scholarship Guide conducted a survey to better understand the latest trends, goals and needs of students in order to offer substantial and strategic support in these areas.
This survey involved a variety of local students across various polytechnics, junior colleges and universities who reflected their education and career goals in the results. The study covered academic aspirations, career and scholarship inclinations, preferred information sources and general feedback, amongst others.
It is vital for scholarship and education providers to refine its offerings to catalyse students' career goals. In today's dynamic environment, leading providers track current trends to champion the education and development of undergraduates while connecting them to affiliated industries and the plethora of opportunities which come along with it.
Education
1. Where do you intend to further your education after GCE 'A' Level / IB Diploma / Diploma programme?
Students were asked if they had any intention to continue with further education and if so, whether they would choose to pursue one locally or overseas. Out of the total number of respondents, a large majority showed interest in pursuing higher education locally and more than a quarter of respondents expressed interest in pursuing higher education overseas. In light of the current Covid-19 pandemic, respondents may be cautious and deterred by the accompanying restrictions when it comes to studying abroad, amongst other factors.

2. Which Local University Would You Be Applying To?
Out of those who decided to pursue tertiary education locally, the survey results concluded that National University of Singapore (NUS) is the top university of choice amongst students respondents. This can be attributed to NUS' notable reputation as a leading public university in Asia. It is also ranked #11 in QS Global World University Rankings 2021. Coming in at a close second, National Technical University (NTU), is also favoured by a significant number of student respondents who are aiming to enter its doors. NTU is found alongside top tier universities and is ranked #13 in QS Global World University Rankings, thereby making it an elite choice further marked by its outstanding credentials.
3. Where Is Your Preferred Country/Region for Overseas Tertiary Education?
Of those looking to study overseas, a majority of survey participants have their sights set on the United Kingdom (UK) as a viable option for higher education. One of the driving motivators behind this may be the generally shorter courses (in comparison to other countries), which significantly reduces overall tuition fees and accommodation costs, amongst other factors.

The United States of America (U.S.) and Australia came in second and third place respectively. One of the main reasons why students choose to study in the U.S. is its reputation for commendable higher-education programs. Approximately fifty percent of the world's top 50 universities are located in the U.S., featuring small class sizes, highly accredited professors, and advanced technology and research capabilities. Australia on the other hand is known for its friendly and laid-back culture, while still retaining its excellent education system and standard of living, thereby attracting its own share of student applicants.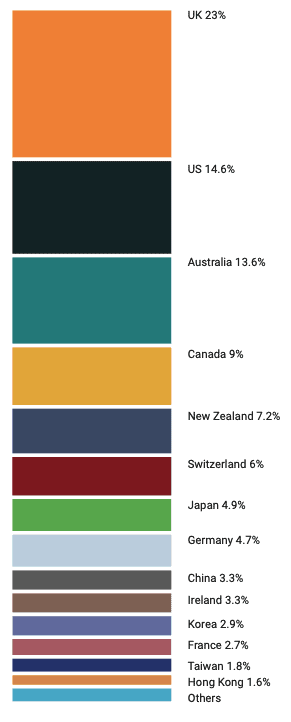 4. How Do You Intend to Fund Your Further Education?
When asked about their methods of financing higher education, a very large majority of students expressed interests in scholarships as a means for provision. The many benefits found in receiving a scholarship could be a reason for this. Going beyond the prestigious recognition, it also provides students with job security upon graduation. Some others shared that their family will be financially supporting their education venture while a smaller group of respondents indicated that working part-time is their preferred option when it comes to funding their studies. A portion of respondents are planning to utilise their personal savings to pay school expenses.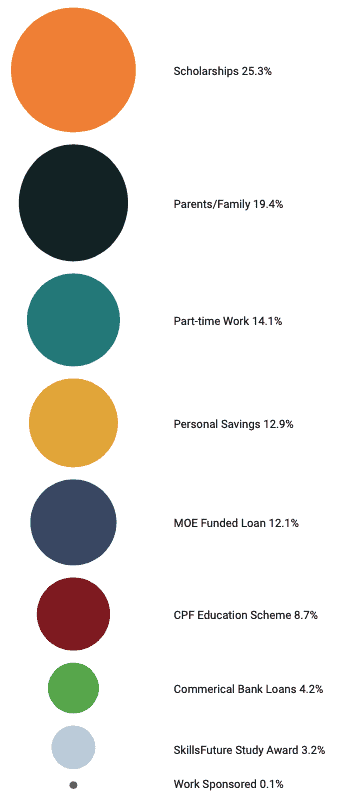 Courses
5. What Are the Tertiary Courses of Your Choice?
When asked on their preferred tertiary course of choice, Medicine emerged as the most popular course of study among student respondents. Singapore's growing healthcare needs could be an indication of this. According to a published Straits Times article, the available spaces to pursue Medicine is said to have increased by 500 in 2020. NTU's rise in global rankings and profile among medical professionals could be among other factors as to why practising Medicine is highly sought-after.
Next in line as the most preferred course of study, Social Sciences and Business Administration took second and third place respectively. Tying at fourth place in Banking and Finance and Biomedical Science.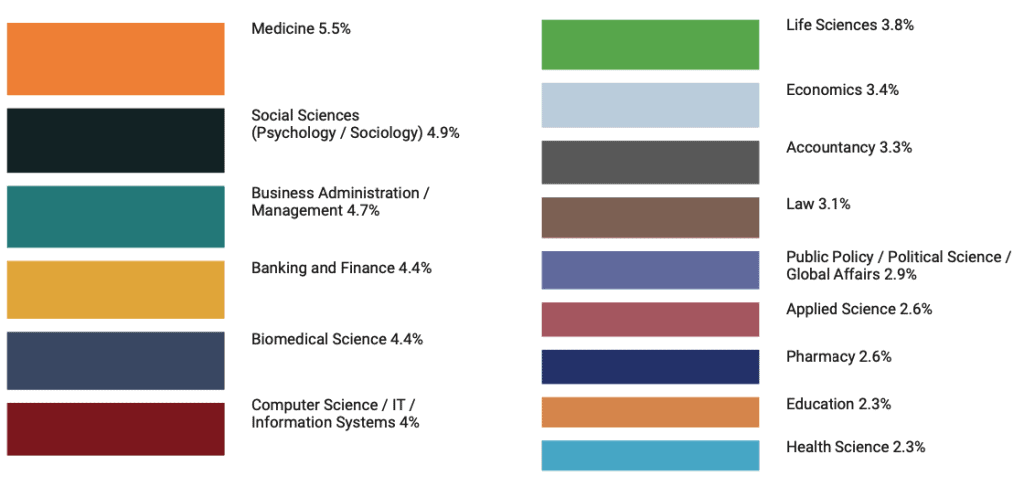 Scholarships
6. Will You Be Applying for Scholarships And/or Sponsorships?
By popular vote, a large majority of respondents indicated that they will apply for scholarships and sponsorships to aid their education ventures, leaving a small percentage of respondents with little to no interest in the scholarship application process. Applying for a scholarship is a big decision for many students, especially when it involves being bonded in the future. As such, many students show a keen interest but are either hesitant or slow when it comes to applying for a scholarship.

7. What Scholarship Providers Are You Planning to Apply To, or Have Already Applied For?
Out of the top twenty scholarship providers, NUS emerged as the top scholarship provider of choice amongst student respondents, leading with the most votes. This is followed closely by NTU and the Ministry of Education (MOE), with some students preferring it over the rest. As NUS and NTU readily offer scholarships to their own students and are usually kept bond-free, many students find this to be an ideal option.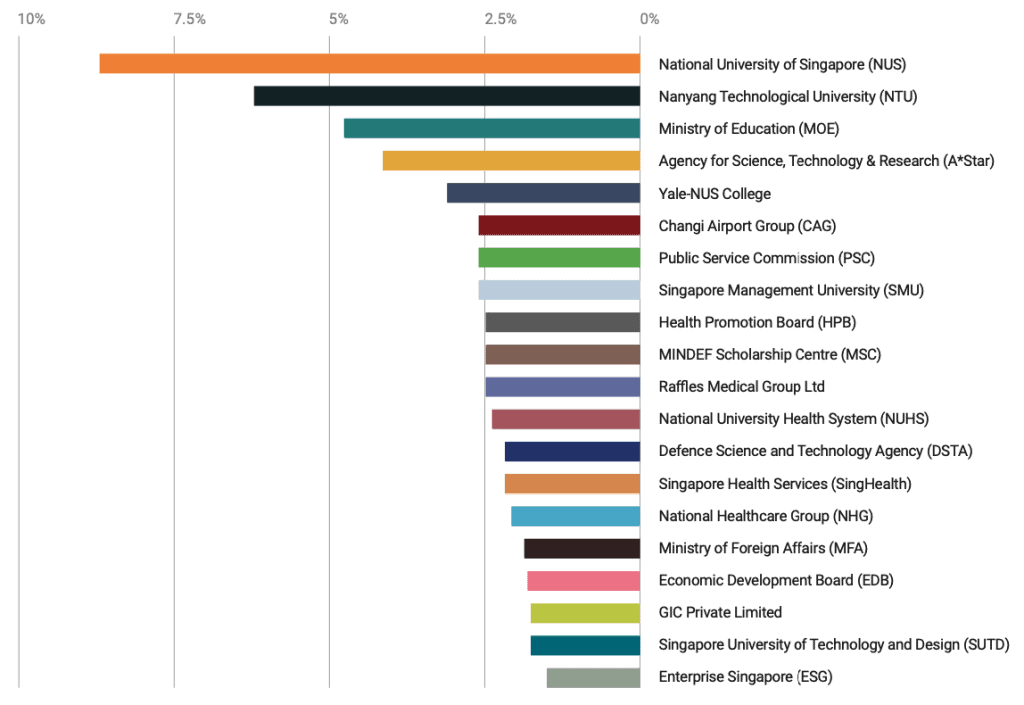 8. What Are Your Preferred Sources for Scholarships-related Information?
Leading with the most votes, Scholarship Guide was the most preferred source for scholarship-related information. The results account for Scholarship Guide's accessible and user-friendly portal which allows for quick and quality information at the fingertips. BrightSparks came next in place, leaving other sources such as government and school providers (amongst others) as the least preferred source.

9. What Is Your Preferred Bond Duration for the Following Types of Scholarship?
For a full local scholarship, the majority of respondents voted three to four years as an acceptable duration to be bonded for. This pattern observes the general practice wherein a four-year bond scholarship covers a full school term. As for a partial local scholarship, a majority of respondents voted for it to be bond-free, or at most, capped at two years. It is common practice for students to choose scholarships with a bond duration ranging from one to three years as these are usually partial or mid-term scholarships. This is ideal for students who have premature career plans, yet still, desire some assurance of job prospects upon graduation.
A majority of respondents preferred a four-year bond as an acceptable duration for a full overseas scholarship. Coming in at second place, student respondents were willing to accept a full overseas scholarship with a bond duration of over four years. For a partial overseas scholarship, more respondents preferred a maximum bond of up to three years. This is followed closely by respondents preferring a maximum bond of only two years.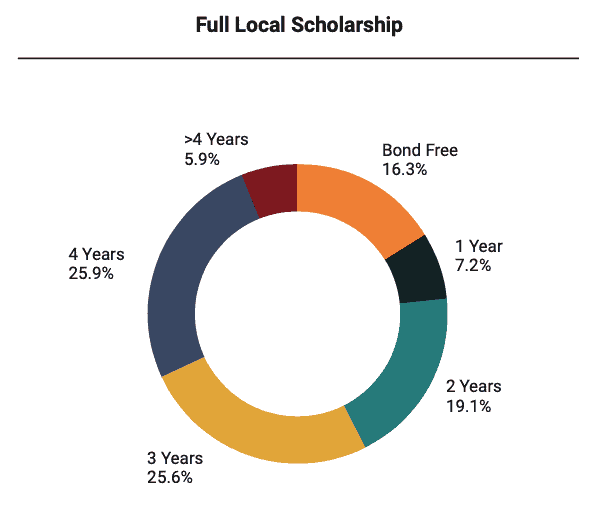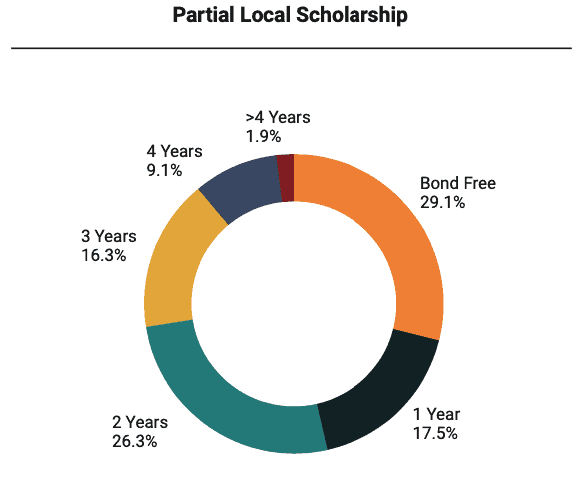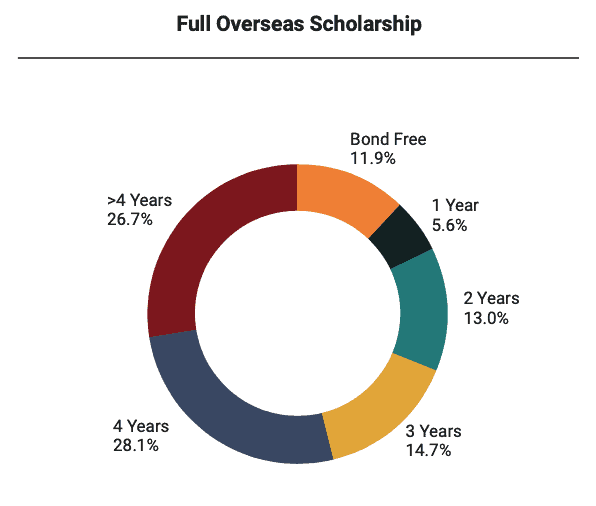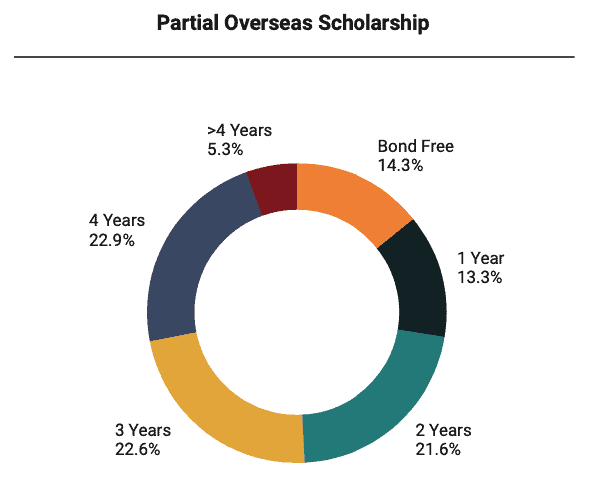 More Articles