Are you crafting personal statements, scholarship essays, and cover letters that can help you achieve your goals? Jacqueline Stansilas, a professional writer with over seven years of writing experience, recommends five tips for students to incorporate into their writing to ensure an impeccable, standout piece.
As the guest speaker of Scholarship Guide's inaugural webinar series held on 4 March 2021, Stansilas presented on the topic of "Professional Communications", attracting over 120 student registrations to the event.
Stansilas began the session by sharing her career journey and humble beginnings as an aspiring journalist. She then centred her presentation around the various tools and techniques to achieve professional and effective written communications in academic and career-related writing. Her five key writing tips are as follows:
1. Know Your Audience
Stansilas elaborated on the importance of identifying the target audience in any piece of written communication and understanding their demographics, preferences, and professional/cultural background. Once that is achieved, the writer can then tailor the information to meet the needs of the reader. This also allows for the appropriate tone, formality, and voice to be used in the communication process.
2. Making a Clear Point
Next, she emphasised that "less is more" when it comes to writing. Each word should contribute to your purpose, and each paragraph should focus on one idea. All these parts would form a complete message. Keeping the content specific, succinct, and respectful helps to convey the intended communication objective.
Stansilas also advised to start strong by summarising "the catch" in the introduction. The introduction is key to holding the reader's attention before encouraging them to read on. She also shared a foolproof list of "Do's and Don'ts" in professional writing, which included using credible sources and eliminating abbreviations, lingos, and slang.
3. Knowing Your Unique Selling Point
"What is your unique selling point?", Stansilas asked her student audience. "Knowing your unique abilities and what you can bring to the table is highly valuable in any setting."
She highlighted that when it comes to scholarship essays and job applications, one must showcase themselves in an authentic and unique light. Using the example of her sister's career in Early Childhood Education, Stansilas shared that its requirements went beyond simply having a passion for children and teaching. The skill set expanded to include event-organising for concerts and open houses and liaising with various vendors for budgeted materials, amongst others. She added that unique abilities such as resourcefulness and bargaining are equally important and should not be discounted.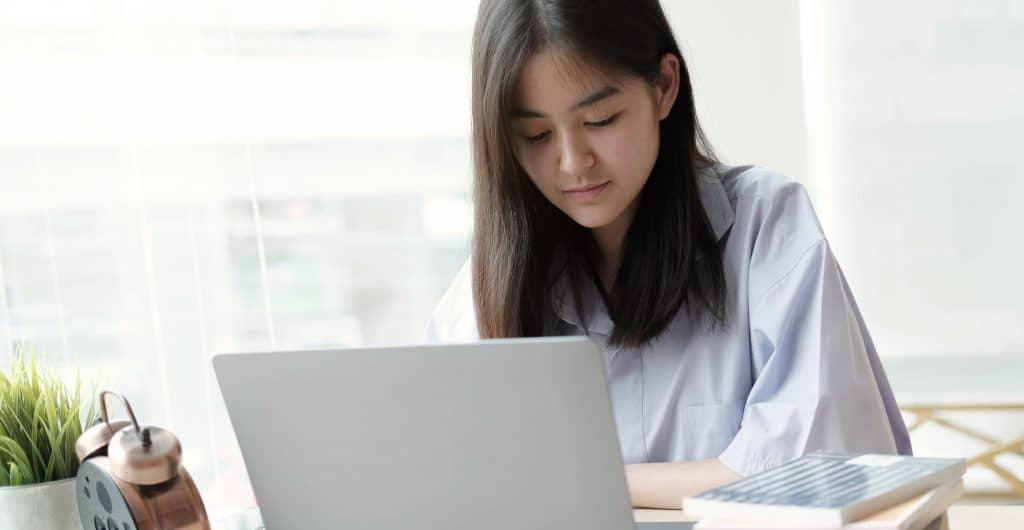 4. Addressing the Three Key Appeals
Stansilas then went on to talk about her fourth writing tip—the three key appeals. She shared that there are three such appeals that create a human connection. They are known as Ethos (appealing to character), Logos (appealing to logic), and Pathos (appealing to emotion). Identifying which appeal would most likely strike a chord with the target audience would ensure that a message is communicated effectively.
Using a job interview to illustrate this, Stansilas explained that when one utilises the ethos approach, they should present themselves as trustworthy and credible. This may come in the form of honest feedback from learnt experiences, but most importantly, not at the expense of slandering another person to appear good.
In the logos approach, one should come armed with statistics, evidence, and concrete examples. It is important to research and be level-headed during the discussion. As an interviewee, one should sound promising but not over-promising.
In the pathos approach, Stansilas encouraged students to find common ground with their audience. Being authentic and sharing what they genuinely admire and appreciate about the company they are applying to demonstrates deep care and interest in the job.
5. Checking Your Work Thoroughly
Bringing on her final point, Stansilas emphasised the importance of revising, editing, and proofreading one's work. She also noted that this process is often overlooked. In a work setting, many rounds of approval are undertaken to improve accuracy and effectiveness in any piece of work.
Stansilas suggested that students should rope in a reputable second pair of eyes as people often overlook their own errors, no matter how meticulous they are. By taking time to tidy a written piece and ensuring that the objectives are met, owners can be confident in their work and ability to communicate effectively.
Conclusion and Q&A
Closing with a light-hearted piece of advice, Stansilas reminded participants that "Writing is a way to express yourself and showcase your personality. Do not get caught up with the little details that you miss the big picture, which is to make an impression and a point."
"How can you remain professional and friendly at the same time?" was one of the questions from the floor. Explaining that it is about maintaining a respectful posture when addressing those in higher ranks, Stansilas said, "We should choose the appropriate settings to engage in friendly discourse. For instance, I would address my boss by title and ask for his opinions on recent non-controversial events during monthly staff birthday gatherings. This helps establish rapport and promote personable exchanges while maintaining a respectful demeanour."
Another asked about standing out through their resumes. Stansilas' advice was to first identify one's own unique selling point before crafting the resume. By bringing something different to the table and offering a niche ability, potential employers will recognise this as a competitive advantage that would value-add to their team. Encouraging the students, Stansilas reminded them that everyone is born unique. Hence, by simply being yourself and leveraging your own strengths, one can outshine their peers even on paper.
With the great student engagement at its first-ever webinar series, Scholarship Guide looks forward to hosting more such webinars in the coming months.
More Articles