The pandemic has accelerated the use of video conferencing and technologies globally. Familiar names such as Zoom, Microsoft Teams, Cisco WebEx, and Barco weConnect are video platforms often used by organisations for recruitment, onboarding, training, meetings, medical consultations, and even design sessions.
To be adept at communicating effectively over video is a critical digital skill that students and employees must master. Scholarship Guide invited Marc Alexis Rémond, Vice President of Sales, APAC, of Barco Meeting and Learning Experience Solutions, to share with students, over an hour-long webinar, on some of the workplace and technology trends around video communications, shedding light on common mistakes and offering tips on best practices and presentation etiquette.
Get Your Audience Attention
There is no better way to deliver a message than to have the audience experience it first-hand.
With people predisposed to reacting to cuteness, who would not sit up and resist going "aww" at the sight of a goofy looking dog wearing a headset, having prepped good lighting setup, and ready to go live on a video call at the click of its paw. Flashing this adorable sight as the first slide of his presentation, Marc delivered his first tip for a successful video presentation without much explanation needed, that is—to capture the audience's attention right from the start.
He later took it further by requesting everyone to turn on their cameras but remain muted. He explained that as a presenter and facilitator, he would like to see his audience and make eye contact, making the session more interactive. This not only cut through the audience's distractions, ensuring their full attention; it was also a power move demonstrating the speaker's confidence and the desire to have a genuine conversation.
Enough About Me, Let's Talk About You
When the speaker is new to the audience, rapport must be built. Marc took a personable approach to engage with his young audience, sharing his professional background and introducing his family over photos. Keeping the introduction brief, he strategically and thoughtfully brought the focus back to them, winning their attention. This is how he did it.
"All right now, enough about me. Let's talk about you. So, I have a question. What are your expectations for this session? Please type your answer in the chatbox."
The words "you" and "your" cut through the noise clutter and pull the audience's attention back to what they care most about—themselves. It also conveys Marc's commitment to wanting to address his audience's needs.
Setting the Stage
Spending a good 10 minutes with his introduction before he dived into the dos and don'ts of a video presentation, Marc set the stage for a successful session by investing in audience engagement.
He fed the audience's curiosity as to when the first video call was made, telling the story of how video technologies evolved over five decades from a hardware-based to a cloud-based solution that has scaled exponentially in recent years. Offering a sneak peek into his company's virtual classroom solution, he engaged the imagination of his student audience in the possibilities of remote classroom settings of the future.
9 Elements That Can Make or Break Video Communications
Marc shared nine elements that determine the success of video presentations. They are:
Network
Audio
Video
Light
Framing
Background
Content
Preparation
Etiquette
Network
Never conduct an important video meeting at a place where the Wi-Fi is shared, and you have no control over the network quality. With a noisy background in public places like a coffee house, video communications will be poor. Do not use a mobile hotspot or tethering between laptop and phone to do a video call. It will cause communications to be lagging. If the Wi-Fi at home is shared or has a weak signal, switch to a wired connection instead. A wired connection should always be the first option.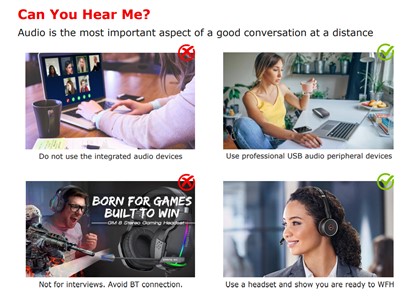 Audio
Avoid using microphone speakers and laptop webcams, as their audio and video quality are relatively poor. Invest in an external USB audio peripheral device designed to suppress background noise. The bulky gamer headsets are not meant for the professional setting. Go for a sleek-looking piece for your video presentation or interview.
To further highlight the benefits of using a headset, Marc shared that his neighbours had unexpectedly started their renovation works just 30 minutes before the webinar. To ensure that the webinar goes on uninterrupted, he had to pick out his best headset, one that his audience was not going to hear the drilling. It worked out perfectly.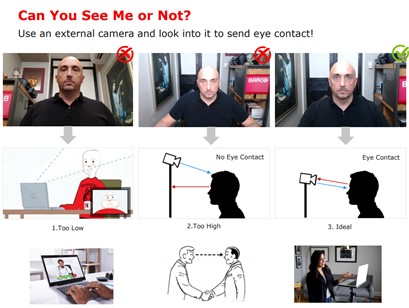 Video
Another reason why laptop webcams are not recommended is that the lower video angle makes one look unflattering. The camera angle should also not be too high. It should be at eye level, allowing the speaker to establish eye contact with the audience. If a laptop webcam must be used, elevate the laptop by putting it on a tripod so that you are looking straight into the camera.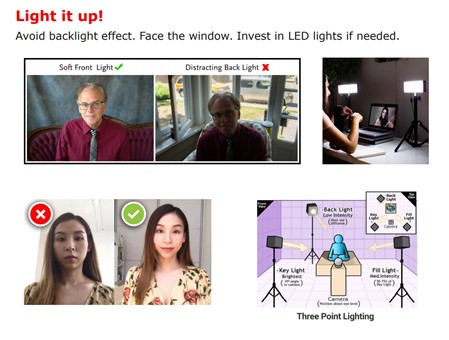 Light
Avoid having a stronger light, such as having a window behind you during the video call. The light should always come from the front. Enhance the lighting setup using LED lights, as depicted in Marc's slides. These lights are sold widely and affordably on eCommerce platforms. If you are looking to achieve a professional setup, the three-point lighting provides the best effect.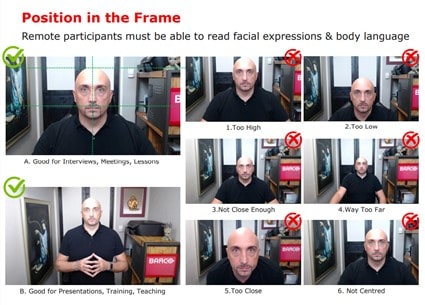 Framing
Framing varies by video presentation context. At an interview, you want to look like you are on television. So, make sure that you are well-positioned. When making a presentation, standing up is the best so that the audience can see your hand gestures and body language. Adjust the camera to frame you from the waist up. Marc also shared examples of poor framing that one should avoid, such as being too high, too low, too far, too close, and not centred within the camera frame.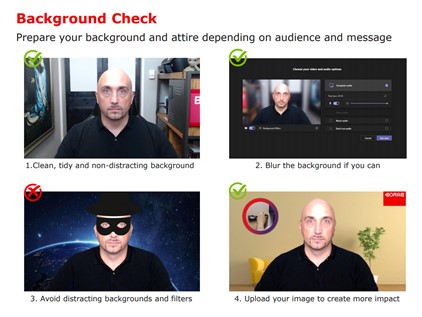 Background
Ensure a clean, tidy, and non-distracting background for your video call, such as not placing the camera in front of a door where people will walk by. Your background choice must be appropriate, and it shall reflect your professionalism. Microsoft Teams and Zoom have the options to allow users to blur the background. Alternatively, you can design your own, and employees may want to add their company logos for corporate branding.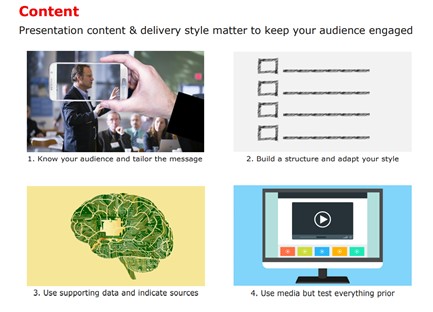 Content
Like any presentation on any media, your content should be well-structured and tailored to the audience. Engage the audience by using visuals and supporting data, quoting credible sources. If videos are embedded, test them before the video live session to ensure that they play well. Marc offered a tip for Microsoft Teams users around sharing videos. Instead of "desktop sharing", insert the file or YouTube link into a PowerPoint. This method offers better video streaming quality.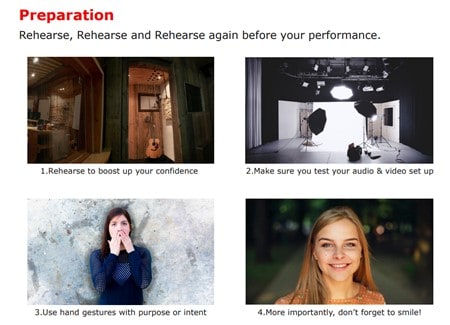 Preparation
Like how a musician prepares for a concert, you must rehearse your video presentation or interview. It also helps to boost confidence. Test your audio and video setup ahead of time. Despite all your preparations, expect unforeseen circumstances. When they do happen, approach them calmly. Having a plan B ready will always come in handy. Body language and hand gestures are good ways to engage and support your message delivery but do not overdo it. Be energetic and, most importantly, smile!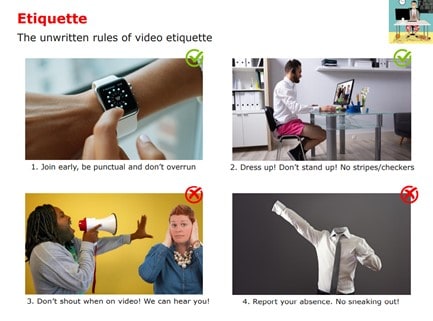 Etiquette
There is plenty of unsaid etiquette around video presentations. Marc shared the top few on his list, with being punctual as the absolute first. As a presenter, join earlier to test your audio and video settings and ensure that your presentation materials are in place. Do not overrun your session as your audience may have other meetings scheduled after.
Dress up and look professional on your video call. If you dress up only the upper part of the body, remember not to stand up. Turn off your camera if you need to. Regarding attire, avoid stripes or checkers because they create a weird optical effect on the camera.
Just speak normally over the microphone and do not raise your voice. People can hear you just like you are sitting next to them. Use intonation to create variation in your voice to help you present with impact.
Lastly, if you need to excuse yourself, let the presenter or organiser know via chat. It is rude to sneak out.
Q&A
Promising an interactive session right to the end, Marc closed the webinar with a Q&A. Here were a few key highlights featuring interesting questions by students keen on tackling video sessions to score impact.
Q: How do you break the ice with the interviewer on video?
Marc: It could be as simple as talking about their background. Just like how you would spot a certificate or book when you walk into someone's office, in a home setting, it can go something like, "Is that Groot behind you? Are you a fan of the Guardians of the Galaxy?"
Q: How do you engage and build rapport with the interviewer over video? What are some tips to stand out from the other candidates?
Marc: Besides ensuring that you cover all the foundational technical aspects of a video interview, ask questions and make sure you pause to allow the other party to ask you questions, transforming the session into a two-way conversation.
Q: What is the future for the chemical and scientific industries in utilising video conferencing?
Marc: Today's solutions have limitations in technical knowledge transfer, such as the ability to allow content annotation and facilitate multiple camera feeds to showcase a product or device from various angles whilst keeping another camera on the presenter. The more technical the content that needs to be transferred, which is highly prevalent in these industries, the more sophisticated the video solution must be.
Q: How should one react to unexpected video disruptions?
Marc: No matter how much you prepare, anything can happen. Use the phone or tablet as a backup for your laptop or computer. In the event of a power or network failure, you have a standby. In a live session, when things go wrong, such as when your video fails to play, remain calm. People will understand. Apologise and move on.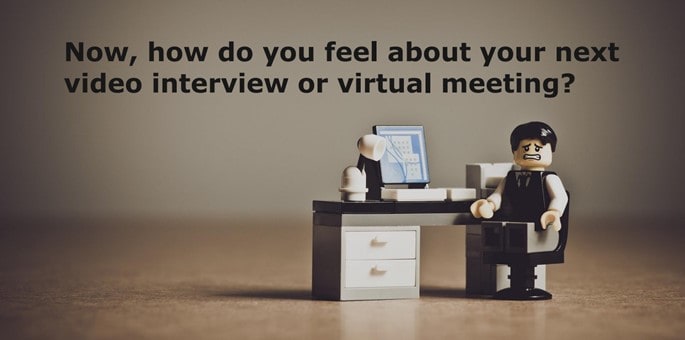 Marc's valuable advice was a fine balance covering both soft skills required for virtual presentations and the technical aspects of video setup. They can be applied across school and professional settings and in our personal social lives. Now, how do you feel about your next video interview or virtual meeting? Marc's webinar session is worth a page bookmark. It was best practices in live demonstration.
---
More Articles