It's so easy nowadays—in this internet age. If you don't know anything, just look it up. Search online for any keyword of interest, and Google will return your query with plenty of search results. And these days, who buys anything without looking up customer reviews? But did you know that behind the scenes of such ease of information access is a vicious commercial battle of content marketing strategies?
Then we have content marketing's fun and younger cousin—influencer marketing, where we watch regular people talk about snacks, technology, gaming, fashion, meditation, makeup, and even soap and candles. Is influencer marketing a fad or the future? The debate goes on. But we cannot deny that it continues to feed our social media addiction and has fuelled an entire lucrative creator economy.
With businesses vying for content advantage, it is no wonder that content marketing and influencer marketing are some of the fastest-growing domains in marketing employment. As such, anyone interested in marketing must have good knowledge of these trendy "cousins".
To support students keen to pursue the marketing discipline, Scholarship Guide invited Dr Joicey Wei Jie, senior lecturer at the Singapore University of Social Sciences (SUSS) School of Business, to speak about content marketing at its webinar session on 1 December 2022. What makes Dr Joicey an expert on the topic is not only because she develops the content marketing course curriculum at SUSS but also because she is a prominent astrology influencer herself, with a 600,000-following on Sina Weibo.
Over the hour-long, insightful, and content-centric session, Dr Joicey had five key messages for students to takeaway:
Content is a bridge between problems and solutions.
Content is designed for the target audience.
Content takes on various formats and engages consumers at different stages of the customer journey and across multiple channels and platforms.
Content measurement is important. (Because "what gets measured gets managed", and we cannot improve something that isn't being measured in the first place.)
Not all content is crafted manually. (The market is constantly pushing out new Artificial Intelligence (AI)-supported content marketing tools for content planning, creation, quality assurance, and analytics. There is much to learn.)
To ensure students gain applied knowledge, Dr Joicey shared multiple comprehensive case studies throughout her presentation to put her key messages into context.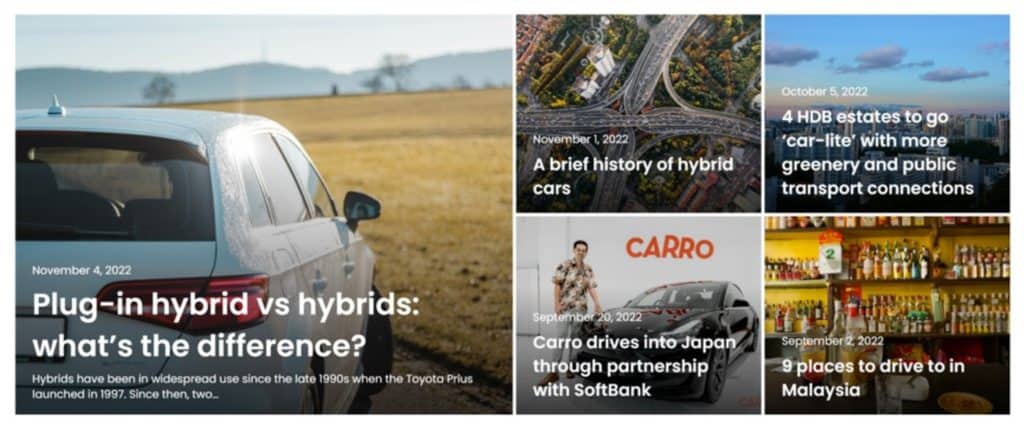 Carro Singapore
Dr Joicey cited Singapore's leading automotive marketplace, Carro, as one of the most successful brands of recent times that had content central to the brand's marketing strategy. According to its former Chief Marketing Officer Manisha Seewal, 80% of the marketing team's work focuses on generating content. From car reviews to the latest car news to driving stories and road trips, Carro ensures a variety of content covering a vast array of car topics on its platform.
Carro's strategy is to create content to cover all usage scenarios to target all car-related consumer intent. This consistent exposure to Carro's content in the research of car-related topics would help place the brand top-of-mind when a car-related need arises in the future. The Carro case study demonstrates how content marketing bridges consumers' needs and the company's solutions. If done well, it can help grab market share and escalate profits.
Michelin. P&G. LEGO. Apple.
Dr Joicey shared that content marketing is, in fact, not an entirely new concept. From aeons ago, prominent brands have been building their audience via what we now call "content marketing" by distributing helpful information to help consumers realise the need for their company's products and services, making their brands more consumer accessible.
From as early as the 1900s, Michelin, the French multinational tyre manufacturing company, published the "Michelin Guide" with advice about auto maintenance and travel. Now, the Michelin Guide is primarily known as a restaurant guide.
In 1933, Proctor & Gamble (P&G) popularised the "soap opera" term when they sponsored a popular radio serial drama to promote their new soap product.
LEGO entered the content game in 1987 when they launched their Brick Kicks magazine, boasting product pricing, comics, games, contests, and modelling tips. But of course, LEGO's greatest content marketing feat was 2014's "The Lego Movie".
The biggest change to the content marketing landscape came in the 1990s with the proliferation of home computers and internet usage, giving rise to email and websites and presenting new and exciting opportunities for marketers.
The term "content marketing" itself was coined by John F. Oppedahl at a journalism conference in 1996, putting a name to the practice that had been taking place for hundreds of years.
When Apple launched the iPhone in 2007 (with other smartphone brands later following suit), the event catalysed the social media revolution, empowering everyone to easily create, share, and consume picture and video content on the go. And since then, digital content has become the primary form of content.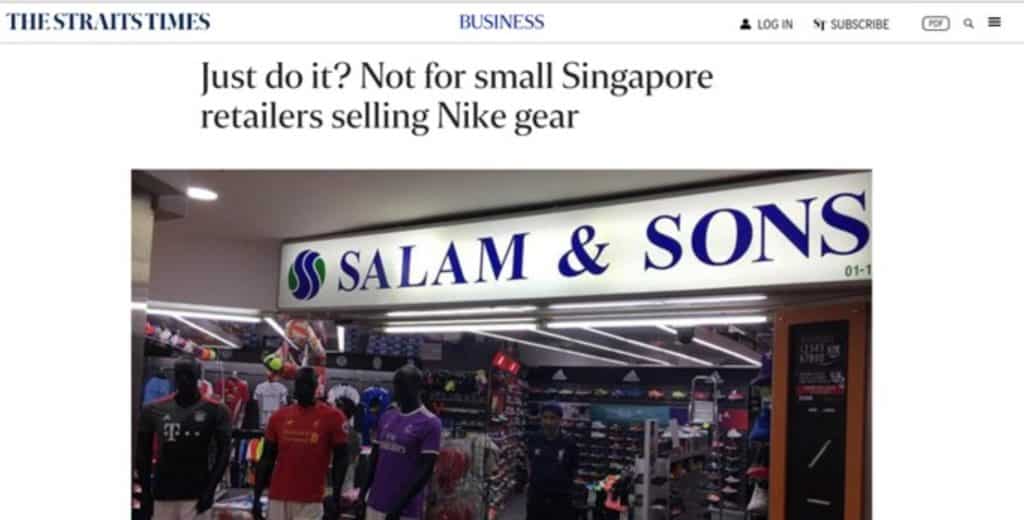 Nike & Queensway Shopping Centre
The first step to designing content is to know your target audience, and the source of that knowledge is consumer data, which comes with the growing trend of disintermediation across industries. Disintermediation is the process of cutting out middlemen from the distribution channel. To help students better understand "disintermediation", Dr Joicey cited the Nike and Queensway Shopping Centre saga.
In 2017, Nike caused a commotion among small retailers in Queensway Shopping Centre when the world's largest athletic apparel company announced that they were banning these mom-and-pop stores from selling their products. In the following year, Nike went on to launch its House of Innovation flagship in New York, Shanghai, and other major cities. These flagship stores, occupying huge building spaces, allow Nike to create a more immersive, customised customer shopping experience.
It turned out that, back in 2017, during the Queensway Shopping Centre saga, Nike was already taking gradual steps to cut out middlemen from their distribution channel to cut costs and have direct access to their end consumers. The disintermediation strategy would allow them to have full ownership of their customer's data, which would translate into insights to improve the consumer experience.
POP MART & The Singapore Tourism Board
With the availability of raw consumer data comes the next step of segmenting it meaningfully to create a customer profile that the marketing content should speak to and appeal to.
To help students understand customer profiling, Dr Joicey took advantage of the recent designer toy craze and used POP MART as an example to guide students in profiling a brand's target audience. The discussion concluded that POP MART's target customers are young adults, the majority female, with a medium level of disposable income. In terms of psychographics and behavioural traits, these individuals are at various stages of their toy collection obsession. And they love the element of surprise and excitement that comes with POP MART's famous "blind box" concept.

While POP MART's target audience is one obvious concentrated group, a brand can have multiple target audience profiles. For example, in promoting Singapore as a tourist destination, the Singapore Tourism Board (STB) has defined its four groups of target profiles: working millennials, families with children, active retirees, and business travellers. As such, in the case of STB, different materials and content must be created to cater to the different audience's needs.
SK-II
Content can take on various formats (text, audio, visual, or video). Regardless of format, each content piece must engage the respective target audience at different stages of the customer journey (from awareness to research to consideration to purchase and post-sales support). The right channel and platform must also be selected to deliver the content. It is worth noting that every platform has its unique demographics, and content (and their respective channels) can be categorised as owned, paid, and earned.
To drive home the message that marketers must know how to strategically combine the three types of content (owned, earned, and paid) to reach their target audience effectively, Dr Joicey cited a comprehensive SK-II case study: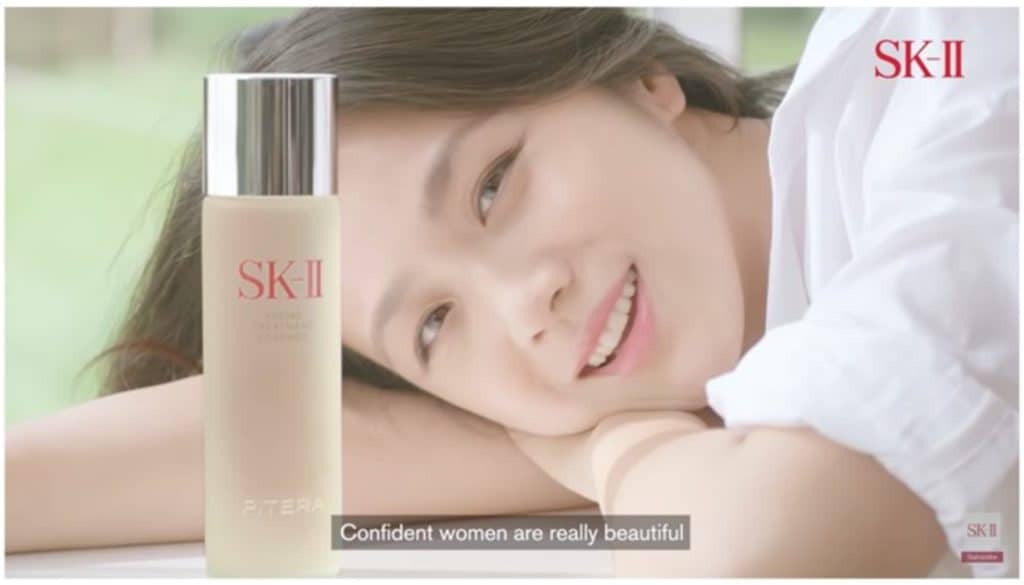 Owned Content: SK-II's "My PITERA™ Story" campaign is a series of docu-films showcasing intimate conversations with the brand's four global celebrity ambassadors, sharing how their skin and life have changed since their first bottle of PITERA™ Essence. These films are published on SK-II's official YouTube account, and the one featuring award-winning actress TangWei has garnered over 100 likes.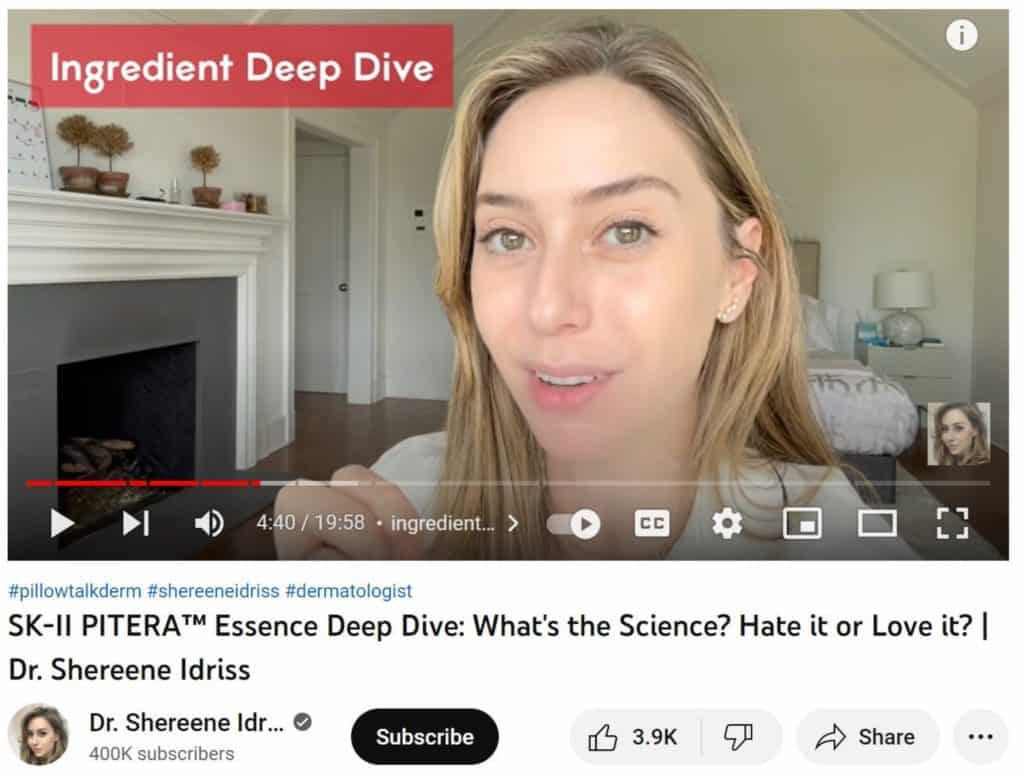 Paid Content: However, comparing the TangWei video, which is SK-II's owned content, with its sponsored content with skincare influencer Dr Shereene Idris, who has over 400,000 followers on YouTube, the 20-minute review of the SK-II PITERA™ Essence by the New York-based board-certified dermatologist has garnered almost 40 times more likes.
Dr Shereene's content is an example of influencer marketing. And on that topic, Dr Joicey believes that influencer marketing can lead to conversions more effectively because sponsoring companies can tap into the existing relationships that influencers have with their followers, hence skipping the early stages of relationship building in the customer journey.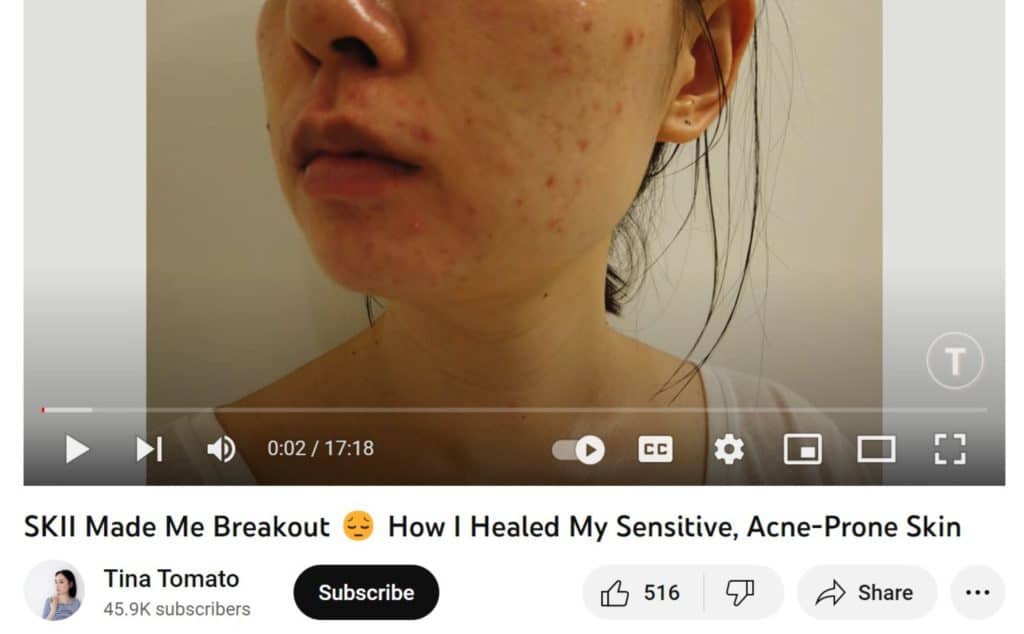 Earn Content: Earned content is organic conversations generated voluntarily from others. It can include mentions, shares, reposts, reviews, and referrals. And because it is not within the brand's control, there is a chance that it can say negative things.
For example, a quick search of SK-II on YouTube has revealed a mix of positive and negative earned content. Some influencers talk about how the SK-II products have caused breakouts for them, while others defend and swear by the brand. Dr Joicey highlighted that regardless of the probability of negative content, brands still value earned content highly because it is free and carries more weight in influencing purchase decisions—due to its genuine nature.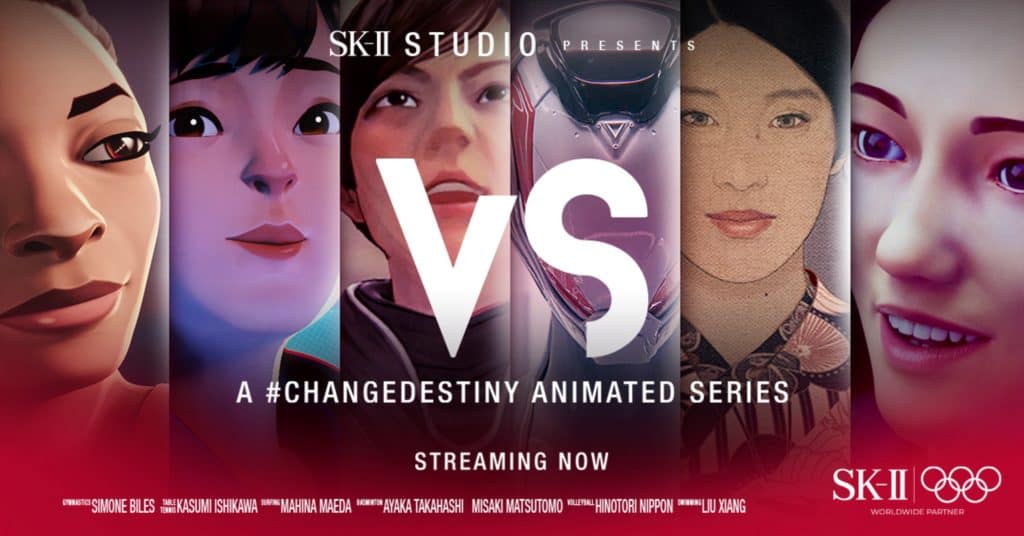 Building Connections with Content: Besides using content to sell products, it also can be used to build connections with a brand's target audience. Dr Joicey brought up the SK-II STUDIO example. The SK-II STUDIO aims to bring together world-renowned filmmakers, animators, musicians, and content creators to tackle the social pressures that impact women today through the power of film and storytelling.
SK-II's strategy to design such branded content stems from their intimate understanding of their target audience, who are middle-aged women, most likely worried about ageing, with inner thoughts, struggles, hopes, and the desire for empowerment.
Through a series of films, SK-II showcases real, relatable stories to remind its audience that "Destiny is not a matter of chance, but choice"; and that while they will face obstacles in life, it doesn't mean that they must succumb to them. The same can be said about ageing.
The premium skincare brand creatively takes on the approach of "changing destiny" instead of the straightforward, blatant message of "combating ageing", building an emotional connection with their target audience and sending the subtle message that their products can help them change their destiny by looking younger.
Such a strategy in using content to build customer relationships can have long-term, far-reaching effects on sales. Because when there is brand loyalty, repeat purchases follow, and the customer's lifetime value increases.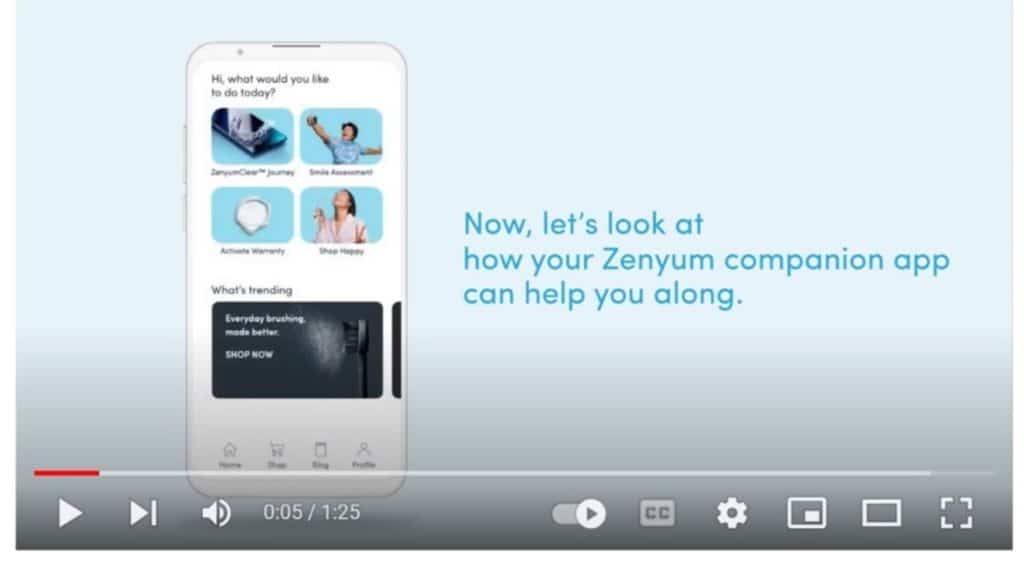 Zenyum
On the topic of earned media, also known as "user-generated content" (UGC), UGC doesn't always have to be the good old "please leave a review." Dr Joicey gave the example of Zenyum, an invisible braces/aligners brand, to demonstrate how marketing content can be strategically designed to create opportunities to facilitate consumers to talk positively about the brand and give marketers some control over earned media.
The Zenyum mobile app has a feature that allows users to document their progress with their braces/aligners and share this information with their friends and family and on social media. Despite being a new player in the market, Zenyum did not focus on the quality of its braces/aligners in its branding. Instead, it positioned itself using smiles, encouraging customers to smile more with the brand. Leveraging this positive, personable theme, Zenyum launched a pop-up Smile Gym at Design Orchard in December 2021, where consumers can have fun and show their smiles. The event was a strategic way of helping the brand generate positive UGC and publicity.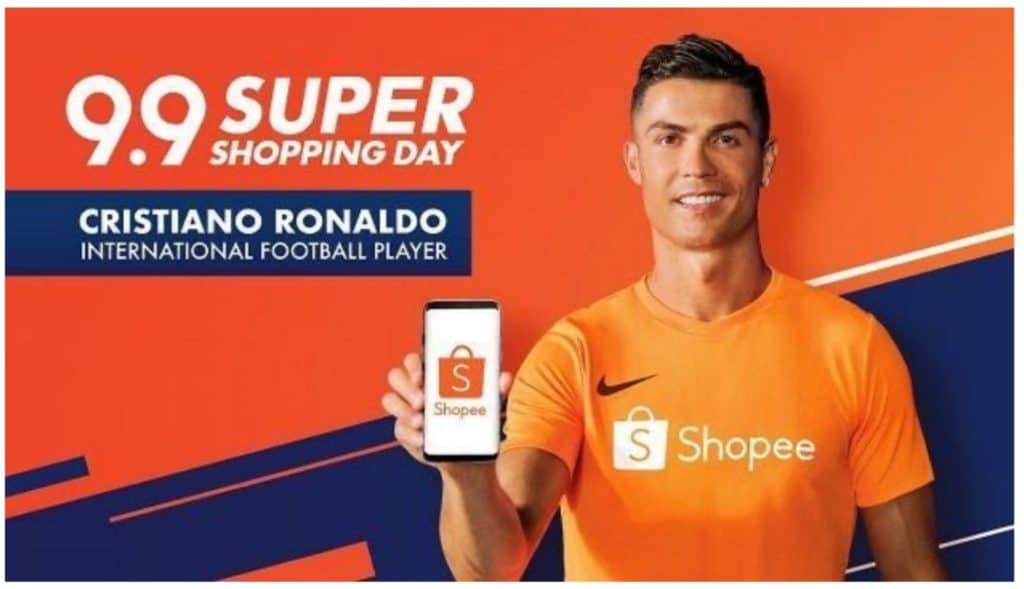 Shopee
To highlight what it means to align content strategy with a brand's communication goal, Dr Joicey cited Shopee's 9.9 Super Shopping Day campaign in 2019. The campaign aimed to drive awareness of Shopee's Super Shopping Day on 9 September, Southeast Asia's version of Black Friday, Cyber Monday, or Singles Day.
The content featured ace footballer Cristiano Ronaldo dancing to the Baby Shark tune—an odd sight to embrace. Bearing in mind that Southeast Asia is a fragmented market, Shopee had to use a well-known celebrity to endorse the brand and capture its audience's attention.
The 2019 campaign served its purpose. And in the following year, Shopee adopted a more localised strategy, choosing Phua Chu Kang (a.k.a Gurmit Singh), a household name in Singapore and Malaysia as the brand ambassador for the two countries. But the same brainwashing melody stays.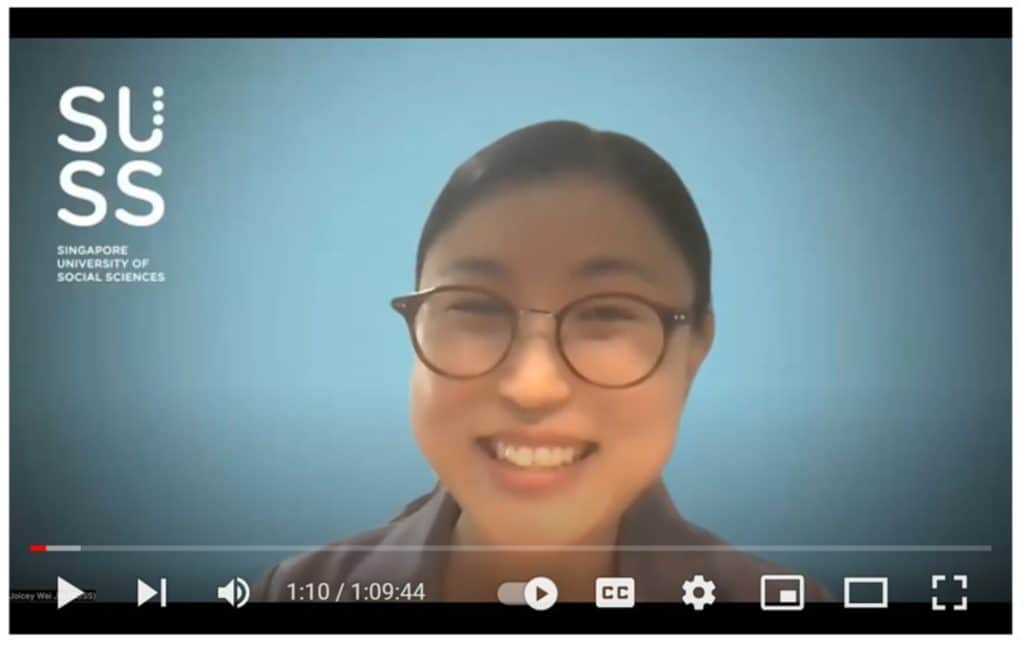 A Macro-Influencer's Personal Account: How Did You Get Famous?
The final 10 minutes of the webinar was a Q&A session. Everyone was in for great insights with the rare opportunity to hear from a macro-influencer in person on her journey to fame. "How did you get famous?" asked someone from the student audience. Dr Joicey chuckled a little at the question, and this was her reply:
"It is not just about the quality of the content; it is also luck. While there are many social media companies out there incubating influencers, not all of these influencers will become famous, even with all that resources and investments. I believe luck plays a part."
"Next, you need to study and understand the "algorithm" of the social media platform that you are on. For example, if you aspire to be a popular influencer on TikTok, you must research the rules of the TikTok platform, know what type of content is popular on TikTok, and how TikTok promotes content within its platform. Each platform uses a different algorithm. And the more you follow their rules, the more your content gets promoted, and your popularity will follow. Hence the quality of the content is only the first step. Learning how to promote your content on the platform fills in the rest."
"Like how I have emphasised the importance of knowing your target audience, I have studied my target audience well. Most people develop an interest in astrology when they face uncertainties in their lives. As such, when I speak with my followers, who are mostly females, I make sure I talk to them calmly and in a soothing tone and do not get too emotional."
"Finally, I have learnt that as you grow as an influencer, the way you manage your content strategy changes along the way. In the early days when I was a young influencer, I focused a lot on the quality of the content. But now, with more followers, I work on building a community, creating opportunities for my followers to express themselves and empowering them. I believe that for different levels of influencers, there are different strategies to connect with followers. So, as your follower count grows, you must evolve."
Thank you, Dr Joicey, for inspiring us with the most insightful session! For more information about SUSS content marketing and influencer marketing programmes, log on to www.suss.edu.sg.
More Articles