From building Lego blocks as a child to shaping the built environment sector today, BCA Scholar Daryl Chew, 27, hopes to offer budding engineers a fresh perspective on the industry. He emphasises the importance of riding the waves of change and getting involved in the current digital transformation process.
Growing up, I cherished my time spent building with Lego blocks. My parents would buy me Lego sets and intentionally remove the instruction manual just to see what I would do with those bricks. They would then leave me alone in the room and return to see a fully built structure ranging from helicopters, planes, speedboats, cars, and of course, buildings. As such, it feels surreal that the concept of Lego blocks are now being adopted in building projects in the form of Prefabricated Bathroom Units (PBU) and Prefabricated Prefinished Volumetric Construction (PPVC) modules.
I saw the opportunity to develop my interest in the built environment sector through the BCA iBuildSG Scholarship and Sponsorship Programme. After receiving my scholarship in 2015, BCA matched me with prominent built environment firms for me to fulfil my aspiration as a Civil Engineer. This led me to my current employer, Soilbuild (Pte) Ltd. As an iBuildSG BCA-Soilbuild Undergraduate Scholar, I went through an in-depth internship, which provided me with hands-on site experience. This included working on the technicalities and fundamentals with regards to the building of a residential project. This exposure gave me a better understanding of existing inefficiencies and how prefabrication could fundamentally raise construction productivity.
In my current role working as a Production Planning Engineer at Soilbuild's Integrated Construction and Prefabrication Hub (ICPH), I am responsible for managing the plant's integrated Enterprise Resource Planning (ERP) systems that drove the automated production of precast components. I also manage the integration and development of various automation system interfaces which served to continuously increase production efficiency and productivity. Being a trained civil engineer meant that I was involved in tender discussions, project feasibility studies, and provided technical advice to address potential engineering issues.
My job scope expands to include the management of the division's Research and Development (R&D) initiatives, in partnership with the Institutes of Higher Learning (IHLs) and industry partners. This involved submitting proposals on advanced Design for Manufacturing and Assembly (DfMA) solutions and sustainable green materials to reduce carbon footprint. Additionally, I was also actively involved in maintaining the division's strategic communication with industry partners, government agencies, and IHLs through work collaborations and visitation programmes – promoting the vision of a transformed sector in line with the Construction Industry Transformation Map (CITM). Recently, I was appointed as an 'Anchor Facilitator' for the iBuildSG Built Environment Formation Programme (iBEFP). This is an industry preparatory programme specially designed to help students better understand the built environment sector and the CITM before undertaking their internship responsibilities. The programme provides exposure to new transformation areas which are in line with the three verticals of the CITM – Integrated Digital Delivery (IDD), DfMA and Green Buildings. As a young engineer who was exposed to all three verticals, I am in a privileged position to impart my knowledge and experience to ambitious students. I hope my sharing would be a beacon of hope to young engineers navigating through the early years of their career.
A career in the built environment sector was never the 'sexiest'. Upon entering the sector, I endeavour to change the general perception of the sector and offer a fresh perspective to future engineers-to-be. Now that the sector is undergoing a transformation process and seeing young talents with new perspectives, one needs to be mindful of the potential conflict that may arise with the more senior staff who are deeply rooted in their conventional approaches. My advice is to always stay humble and be courteous to those you work with, keeping the big picture in mind. Always emphasise the importance of teamwork and project yourself as a selfless leader who can manage your ideas and visions in the face of criticism. Another piece of advice I could offer budding engineers is to be the catalyst for change and never be too comfortable with the status quo. The industry does not need an engineer who simply works a typical eight-hour shift; it needs an engineer who can also think like a doctor, banker, lawyer, and IT analyst – that is the true transformation for a 21st century engineer.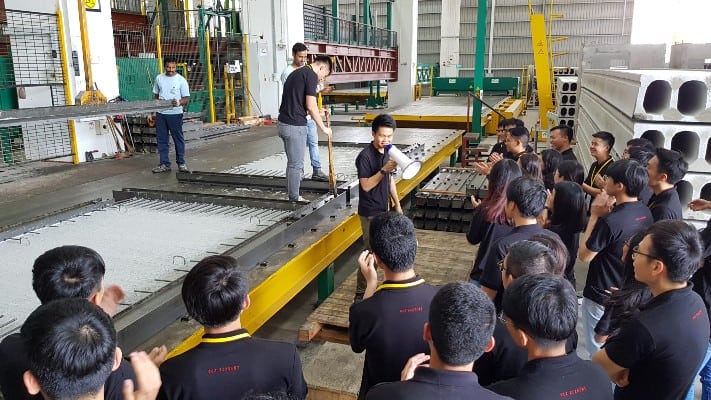 The transformation journey is challenging and exciting for those who believe in the future of our built environment. There is great potential for growth and aspiring engineers should ride the current wave of transformation to discover new opportunities that would provide them with a meaningful and rewarding career roadmap. Simultaneously, one should constantly upgrade themselves academically to keep up with the growing demands of the evolving job landscape of today. As such, in 2021, I have decided to pursue a master's degree in engineering under the Industrial Postgraduate Programme (IPP), a scholarship that is awarded by EDB and ESG in collaboration with NUS and Soilbuild. My main focus will be to develop an advanced DfMA connection system for precast technology, overseeing every step of the research and development process.
I believe that change is the only constant in life and we should all embrace it in order to reach greater heights. There are many opportunities from BCA such as the iBuildSG Scholarship and Sponsorship Programme and the iBEFP which allow one to pursue their aspirations in the built environment sector. One needs to have an open mind and the gumption to take the road less travelled in order to succeed. In the years to come, I do hope that I will be given the opportunity to shape the future direction of the built environment sector and fortify Singapore's international standing as a world-class city.
DARYL CHEW KOK HOONG
iBuildSG BCA-Soilbuild Undergraduate Scholarship
Age: 27
Attained: Bachelor of Engineering in Civil Engineering, NTU
Now: Production Planning Engineer, Soilbuild Construction Group
From: Tampines Junior College (Now known as Tampines Meridian Junior College)
More Articles