From an early age, PUB Scholar Zaw Maw Htun witnessed his father's contributions to the water treatment industry and was inspired to follow in his footsteps. Having completed his studies at the University of Edinburgh on the Singapore Sustainability Scholarship, he has now joined Singapore's national water agency as an executive engineer in the Water Supply (Plants) Department. Let's delve into his journey and discover how he is engineering the flow of the water industry legacy from father to son.
Engineering the Flow
I owe it to my dad for igniting my interest in the water industry. During my childhood, he would captivate me with stories about his work, instilling in me a deep sense of pride in his contribution to providing such a vital resource to society.
While the desire to uphold the water industry legacy burned within me, I also nurtured a curiosity to explore other diverse fields. Instead of following the more common path of chemical and environmental engineering directly related to water, I opted for mechanical engineering. This decision would afford me a broader understanding of engineering principles while keeping me connected to the water industry. After all, multi-disciplinary engineering is crucial in tackling the complexity and challenges associated with water resource management.
The Transition
I am currently an operations engineer responsible for overseeing the day-to-day operations of a water treatment plant. One of my most significant challenges in the early days was transitioning into a new work environment. However, over time, I have learnt to adapt and appreciate the importance of spending quality time with loved ones and planning weekends wisely to make the most of my time whenever I return to Singapore.
I attribute a big part of my ability to overcome career challenges to the invaluable experiences and lasting friendships cultivated during my university days. The diverse range of activities I engaged in during my academic years ignited profound passions, which I now pursue as hobbies outside of work, enabling me to strike a healthy work-life balance. Furthermore, the unwavering support system I established during that time remains a pillar of strength to help me navigate my professional journey.
Career Highlights
Within a relatively short period, I have experienced several memorable moments in my career with PUB. The first was when my colleagues and I worked tirelessly on rotation past office hours during a major plant treatment disruption to ensure that treatment could resume promptly. The second was the opportunity to work with an internal team and external stakeholders to plan a successful event that allowed staff to bring their families to the water treatment plant to showcase our work and educate the community on what we do there.
I am grateful for the supportive PUB work culture, which was a key factor in facilitating these remarkable moments. My colleagues readily share their knowledge, making learning enjoyable and engaging, and my supervisors are understanding and empathetic, creating an overall positive and welcoming work environment for all.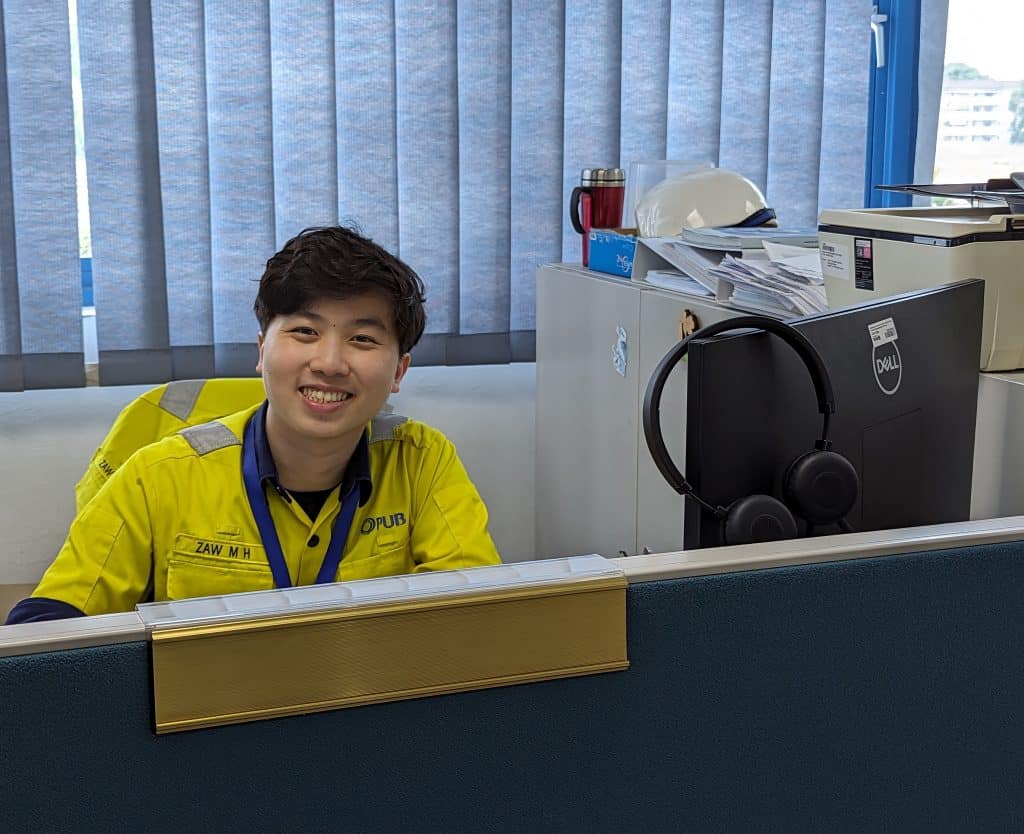 Flexibility, Choice, Progression & Impact
Scholars get to choose their preferred technical domain with PUB, from chemical to mechanical to systems and electrical engineering, and even automation. The organisation also offers regular rotations every few years for staff to apply their skills and knowledge in diverse roles to hone their versatility. Both technical and managerial career progressions are available to all, depending on the individual's interest.
I strongly encourage aspiring scholars to consider joining PUB. Besides the abundance and flexibility of career prospects, being a part of an organisation crucial in sustaining the livelihood of Singaporeans cannot be more fulfilling.
My humble beginnings with Singapore's national water agency mark only the initial steps of a greater path. I hope my meaningful reflections here can spark the same glimmer of inspiration within you, instilling a passion for the water industry, just as my father has done for me.
---
ZAW MAW HTUN
Singapore Sustainability Scholarship
Bachelor of Science in Ecological and Environmental Sciences with Management with Honours (First Class), The University of Edinburgh, U.K
Now: Executive Engineer, Water Supply (Plants) Department, PUB, Singapore's National Water Agency
From: Tampines Junior College
More Articles