Local undergraduates – Foo Xu Hui, Daniel Liew, Samuel Lim, Toh Wei Soong – were awarded the Asia Pacific Breweries (APB) Foundation Scholarship for Persons with Disabilities in recognition of their achievements and academic excellence.
They received their awards from Guest-of-Honour Mdm Rahayu Mahzam, Member of Parliament for Jurong GRC, and Mr Kenneth Choo, Member, Board of Trustees, Asia Pacific Breweries Foundation (APB Foundation) and Managing Director Asia Pacific, Heineken Asia Pacific Pte Ltd, this morning.
"This year marks the 25th year since the APB Foundation was established with the primary aim of giving back to the community. Through this Scholarship programme, we have seen how with some help and encouragement, youths in underprivileged circumstances could rise above adversities to become successful. Like others before them, I hope the achievements of our new scholars will inspire a generation that is never afraid to go for their dreams," said Mr Choo.
The scholarship programme which was launched in 2004 and managed by local charity SPD, has committed more than $1.6 million to support students with disabilities in their educational pursuits, benefiting 46 scholars to date.
The only female recipient this year, Foo Xu Hui became paralysed waist down after a slip and fall incident when she was 17. Xu Hui had to stop school because of her long hospitalisation and intensive rehabilitation. She returned to school as a first-year student at Anderson Junior College seven months later.
Xu Hui, who has to rely on a wheelchair for mobility following the accident, did not shy away from school activities and contributed passionately to her school community. Now a third-year biological science undergraduate at Nanyang Technological University (NTU), Xu Hui also volunteers in one of NTU's student bodies to promote integration and inclusion in her school community.
"The scholarship is a great encouragement for me, a pat on the shoulders that I have done well. Most importantly, my family and I will not have to worry about the school fees, and I can focus on my studies and improving my skills in swimming and singing. For this, I am truly grateful to APB Foundation and SPD," said the 23-year-old Xu Hui.
Another scholarship recipient, Toh Wei Soong, 20, has Transverse Myelitis, a condition caused by the inflammation of the spinal cord which affects his lower nervous system. Wei Soong started swimming competitively when he was 14 and has won numerous medals in various international swimming competitions since.
The double gold medalist at the 2018 Asian Para Games is currently on track to meet the qualifications for the Tokyo 2020 Paralympics. In between training, the first-year undergraduate reads philosophy, politics and economics at the National University of Singapore.
Joining this year's honour roll is 20-year-old Samuel Lim. An incident had permanently damaged his upper airway and upper gastrointestinal tract when he was three months old, which affected his breathing, eating and speaking. Samuel picked up piano and guzheng when he was young, and has since performed at many charity events, touching many with his musical talents.
Through enrolling in Linguistics and Multilingual Studies at NTU, Samuel hopes to study the relationship between language and society, and uncover the root causes of discrimination and help break down stereotypes.
Daniel Liew, who was not present at the event, completes the list of four scholars this year. The 21-year-old is a third-year statistics and business analytics student at NUS.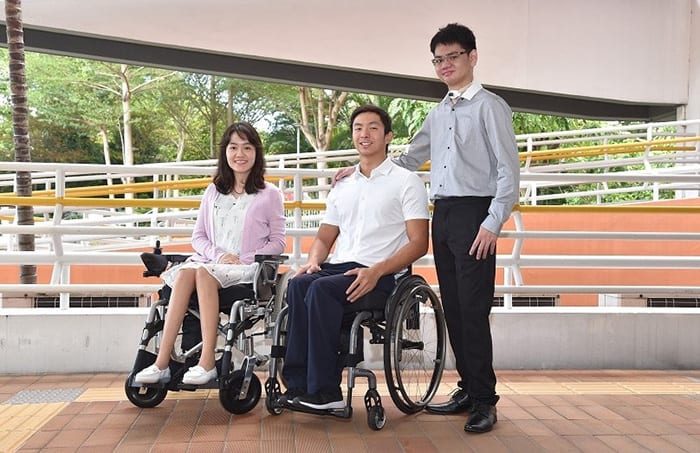 Through this scholarship programme, scholars will receive $12,000 annually to cover their course fees in any of the six recognised local universities.
"We are thankful to APB Foundation for believing in giving students with disabilities an equal opportunity to strive and shine, and supporting them over the years. Congratulations to our four new scholars. They are indeed exemplary youths, and their stories will motivate others to overcome their own challenges," said Ms Chia Yong Yong, President of SPD.
This article was first published on 8 October 2019 on SPD website: https://www.spd.org.sg/asia-pacific-breweries-foundation-propels-youths-closer-to-their-dreams/
---
More Articles