Her love for animals goes beyond simply being around them to getting to the roots of understanding their behaviour. NParks Scholar Chong Qi Ai is an animal behaviour expert and has made improving the welfare of animals her life's work.
Qi Ai is now a senior manager at the Animal & Veterinary Service's Centre for Animal Rehabilitation (CAR), and she holds an MSc in Applied Animal Behaviour and Animal Welfare from the University of Edinburgh, United Kingdom.
From being bitten by a dog while volunteering to rescuing Scottish wildlife and even witnessing animal suffering while observing the operations of intensively farmed pigs in Barcelona, the NParks talent has her fair share of stories to tell of her incredible undergraduate and scholarship journey.
Love for Animals: Turning Passion into Purpose
I have always loved being around animals. Beyond enjoying their company, their behaviour is a topic that excites me—why they behave the way they do, how their emotional states drive their behaviour, and how behavioural traits are selected for and have evolved over thousands of years.
Having an in-depth understanding of animal behaviour and ethology and then applying this knowledge to improving the welfare of animals under our care is something that I have devoted my career to. We must recognise that animals behave in a certain way—not randomly, but usually for a reason. Once we understand the underlying causes and motivations, we can work to manage and change behaviour in a way that benefits both the animal and the community.
I had aspired to join the then Agri-Food and Veterinary (AVA) [now known as the Animal & Veterinary Service (AVS), a cluster of the National Parks Board (NParks)] as I was keen to contribute to animal welfare initiatives by coming up with scientifically sound and up-to-date welfare practices for companion animals, food animals, and wildlife. I was also interested in educating the public and generating awareness about animal behaviour and welfare, as I believe that education is key to improving the lives of animals that we are responsible for as a society.
Memorable Experiences & Meaningful Takeaways
I am grateful to be awarded the AVA Scholarship (now known as the NParks Undergraduate Scholarship), which has afforded me the opportunity to study and live in several European cities, such as Sheffield, Edinburgh, and Barcelona. There, I connected with and worked alongside animal behaviour and animal welfare science professionals to study a range of species, such as dogs, domestic pigs, and even insects! I also had the chance to volunteer at dog rehabilitation shelters, cat rehoming centres, and wildlife sanctuaries.
I had many eventful moments throughout my course of study, many of which taught me invaluable lessons. Here are my top three most memorable ones.
The first was being bitten by a dog while volunteering at a dog rehabilitation centre. He was being walked, and I touched him on his side without his "consent". It was scary because he held on to my arm for a couple of seconds before finally letting go. Luckily, it was in the middle of winter, and I had a thick jacket on, so the injury was not too bad. Looking back, it is important for volunteers who work with animals to be trained in animal behaviour and know how to interact with animals appropriately to keep both the animal and human safe. Drawing from that experience, at our current rehabilitation facility (the Centre for Animal Rehabilitation), we place huge emphasis and importance on training and supervising staff and volunteers, ensuring that they follow the relevant safety procedures.
The second most memorable experience was during my master's programme. I had moved to Barcelona for six months to collect behaviour and welfare data on enrichment interventions for intensively farmed pigs. There, I got to observe pig farming operations that naturally had animal welfare challenges as it was an intensive system. It was difficult to witness animal suffering without being able to intervene because it would stop our research collaboration with the farm. But I'm grateful for the experience, as it is important to know how our food is traditionally produced so that we can change things for the better by choosing higher-cost, welfare-friendly meat.
The third was when I was involved in residential volunteering at a wildlife rescue centre in Scotland. It was amazing being so close to wildlife, rehabilitating them, and releasing them back into the wild. The animals ranged from orphaned fox cubs to swans with broken wings and even the occasional injured seal! Even though the work was physically tough, starting at 8 in the morning and ending at 8 in the evening, and despite the occasional cleaning of maggot-infested aviaries, I enjoyed interacting with the staff members and other volunteers from all over Europe. I made many friends there while playing a part in helping Scottish wildlife.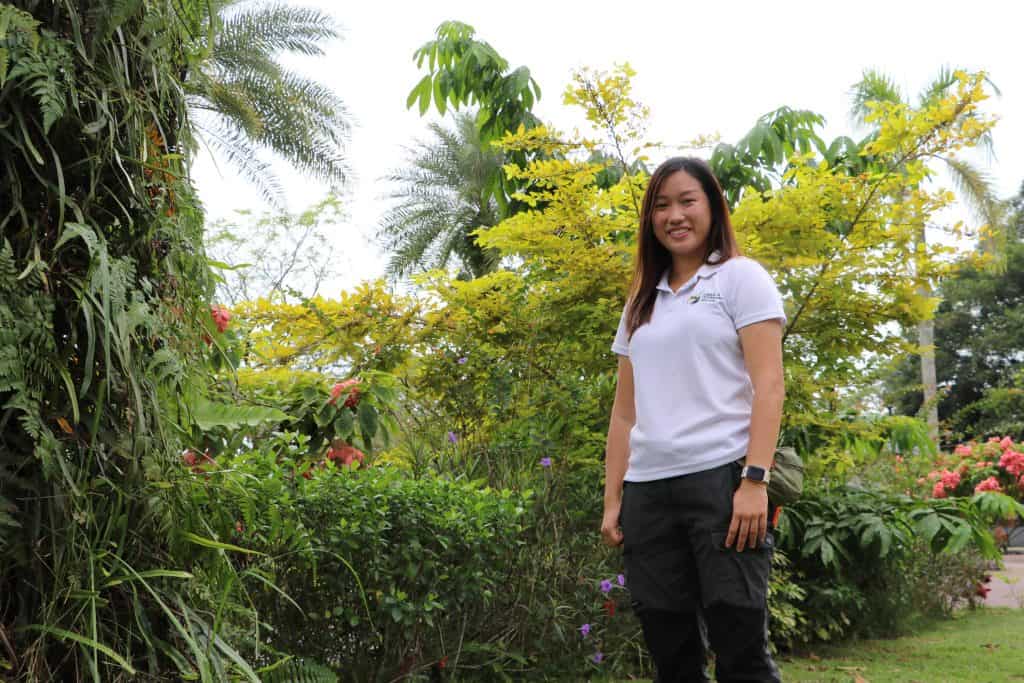 Safeguard Public Health, Animal Health & Welfare
My first posting since graduation was to the wildlife section at the then-AVA. There, we managed public feedback on wild animals in Singapore, such as birds, bats, snakes, wild boars, and otters. Our team also worked on initiatives to reduce human-wildlife conflict and collaborated with various stakeholders to seek sustainable solutions. Such work usually involved educational campaigns to raise awareness of co-existing peacefully with wildlife, as well as developing effective population management strategies.
At NParks, I am now working at the Centre for Animal Rehabilitation (CAR), Singapore's first facility dedicated to animal behavioural rehabilitation. At CAR, we are involved in designing, developing, and running the canine rehabilitation programme, which uses a science-based and welfare-considered approach to animal training to support the rehabilitation and rehoming of stray dogs to help them integrate more successfully into the community. The team that develops and implements behaviour modification programmes for in-shelter domestic dogs relies on rewards-based training methods to achieve behavioural change without compromising animal welfare. Shelter dog welfare and quality of life are also enhanced through a daily structured enrichment programme, together with positive relationship building with our trainers and the dogs' future adopters.
In addition to my core work, I collaborate with other divisions and external stakeholders to develop and deliver behaviour and welfare training programmes and animal-related initiatives and policies. I also play a supportive role in providing expert behaviour and welfare advice to other divisions.
Community animals play a vital role as our companions, and our well-being and health are interconnected with theirs. As we move towards a City in Nature, we work closely with partners in the veterinary and animal sectors to strengthen capacities and enhance competencies in animal health, animal welfare and management. This will enable us to safeguard public health, animal health and welfare.
A Word of Scholarship Advice
My advice for students exploring scholarship options is to find their passion in life and pursue it to the best of their ability. If you join NParks, you will have the opportunity to make a positive difference to not just a few animals but potentially tens of thousands of them through sound, evidence-based policymaking.
CHONG QI AI
NParks Undergraduate Scholarship
Master of Science in Applied Animal Behaviour and Animal Welfare, University of Edinburgh, United Kingdom
Now: Senior Manager, Centre for Animal Rehabilitation
From: Ngee Ann Polytechnic
More Articles