Everyone has their eccentricities, and Yong-Xing's quirk is to study the Singapore Street Directory. Now a civil engineer with the Urban Redevelopment Authority (URA), he speaks about his peculiar interest and how it has led to his higher education, scholarship, and career pursuits.
I used to pore over the Singapore Street Directory at bookstores during my primary and secondary school days. Thoughts that often came to my young mind while browsing were: "Why are the roads in this new area planned this way?", "Why build a condominium here and not a shopping mall?", "I want to check out this new building!" Just an odd interest, some might say.
From a quirk to a niche. When the time came to choose a university course, I decided to build on this interest in urban planning, transportation systems, and the built environment, making it my niche. As a Science stream student in Junior College, I found that the civil engineering course offered by the National University of Singapore (NUS) fits the bill perfectly, with its wide-ranging curriculum that includes transport engineering, structural design, and soil mechanics. I also enrolled in the University Scholars Programme (USP), a multidisciplinary NUS programme that exposes students to a wide spectrum of topics such as ethics, global warming, and anthropology. In this way, I could get the best of both worlds—the depth of an engineering degree, and the breadth of a multidisciplinary programme.
Transforming passion into a career. After my first year in university, I realised that the answers to my childhood questions could be found in URA's scope of work. That was what spurred me to apply for the URA scholarship. I was convinced that my technical knowledge in civil engineering, coupled with the cross-disciplinary critical thinking skills I acquired from USP, would allow me to contribute to URA's mission of making Singapore a great city to live, work, and play.
Special internship privileges. I am grateful to have contributed to three different URA departments over two internships, where I conducted data analysis, research, design calculations, and site visits. My colleagues, mentors, and bosses were extremely knowledgeable, friendly, and helpful. I even had the rare opportunity to visit the site of the then yet-to-be-open Marina Bay Station along the Thomson-East Coast Line, and I got to attend the World Cities Summit 2018 in person. URA also supported my decision to fulfil my curriculum's 6-month industrial attachment as a site engineer in a local contractor firm. The experience I gained prepared me well for site work and project management.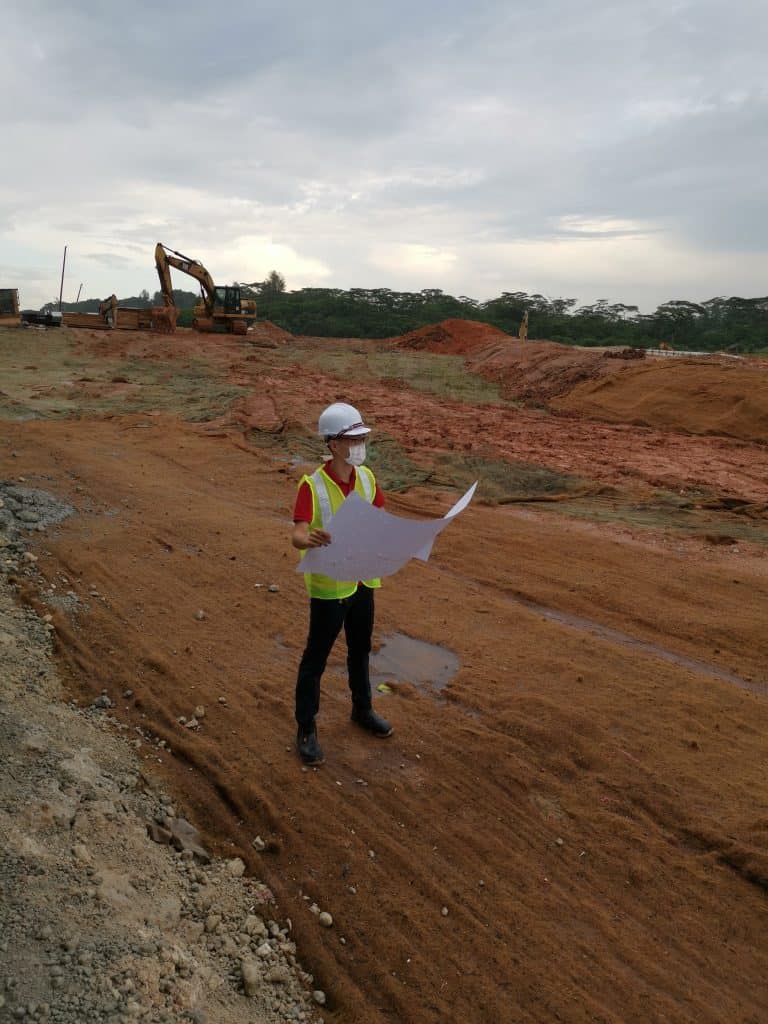 Overseas cultural exchange and learning. My overseas exchange programme at Technical University Munich, Germany, certainly broadened my horizons. I attended enriching courses on transportation planning and engineering, picked up the German language, travelled extensively with friends, and even participated in marathons and half-ironman races in Europe. These accumulated experiences have enabled me to explore how different cultures approach similar problems with different solutions, helping me understand the various approaches to problem-solving and ideation.
Having graduated and now proudly in the workforce, I am currently a civil engineer in the Underground Works Department of the Development Services Group of URA. As Singapore strives to plan for subterranean developments in a structured and prudent manner, I find myself contributing to technical analyses of plans and suggestions put forth by various agencies at inter-agency workgroups. The technical knowledge and cross-disciplinary critical thinking skills I acquired from university help me evaluate research projects to further depths and offer constructive suggestions. My project management skills are also put to good use when working with external agencies and contractors. The work at URA may be challenging, but that is exactly why it is rewarding—where every task assigned is an opportunity to learn and grow.
Calling future engineers of URA. I am privileged to have been supported by the URA scholarship throughout my undergraduate journey, and work at URA has been meaningful and enjoyable. If you are a team player with a passion for shaping Singapore's cityscape, take up a scholarship with URA! And if you enjoy the science and technicalities behind the systems at play, you may want to consider civil engineering as your niche.
CHONG YONG-XING
URA Scholarship
Bachelor of Engineering (Civil Engineering) & University Scholars Programme, National University of Singapore
From: Raffles Institution
Now: Civil Engineer, Underground Works Department, URA
More Articles