Update
Thank you everyone for taking part in the final instalment of Scholarship Guide Webinar series 2021. For those who have missed our webinar session, you may view the recording and slides below. You may also read our feature article here.
Webinar Replay
Webinar Slides
Hacks for Writing Clear Convincing Communication
Creating clear, convincing communication is an essential skill in any job or indeed in daily life and relationships. Whether ordering a coffee or guiding project partners to follow team rules, proposing a business idea or proposing marriage, you'll want to be clear and convincing. And if it's an important message to someone who really matters, you'll really need your message to excite the right response, and hopefully, be appreciated and well-remembered. Good language skills help, like sauce on a steak, but are not absolutely necessary. The meat is the message and successful writers can prepare and present a persuasive message, even without powderful England.
In this session, pick up a few tips and tricks #writinghacks for effective, engaging communications, such as:
Think before you open your 'Word'
Put on her shoes
Head or Heart
Cut & Craft
Read it again, and again, and again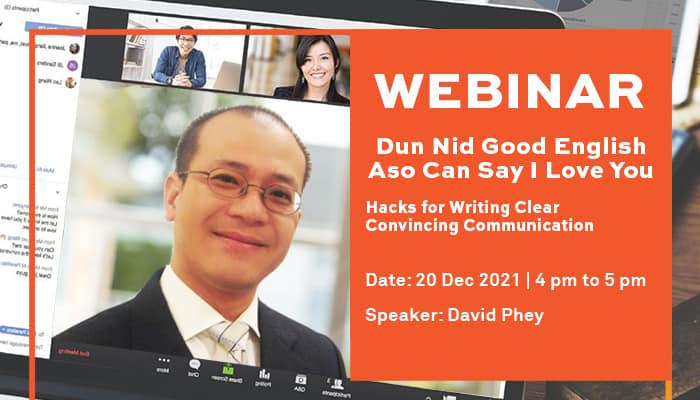 About the Speaker
David Phey started as a copywriter, winning awards in New York, London, Hong Kong and Singapore for work on Carrier, Cold Storage, Durex and Nissan. He learnt his trade at American, English, French, South-East Asian and Japanese agencies, growing from creative to client servicing, strategic planning and agency management. Campaigns he has led include re-branding SGX and Singapore Polytechnic, Pantai Hospitals in Malaysia, Ballantines Whiskey's entry to China, Aimer lingerie's entry to Singapore, and development of the Koufu brand.
He served on the Association of Accredited Advertising Agencies' (4As) Executive Committee, and as a panel judge for Singapore Media Awards in 2010 and 2011. Today, David heads corporate communications at Centurion Corporation Ltd, managing brand and communication for Westlite and dwell Student Living across the UK, US, Australia, Korea, China, Malaysia and Singapore.
Coaching engagements
· NCSS Digital Marketing and Electronic Fund Raising Sub-Committee 2017-2018
. Bank Mandiri management board training seminar – 2011
· Ngee Ann Polytechnic lecture series – 2011 & 2012
· In-cosmetics Asia 2010 – Anti-Aging Your Brand
· Pacific Conferences Marketing to Asian Women, 2009
· Malaysian Annual Real Estate Convention 2008
· Design Singapore Council Marketing Communication Conference 2007
· 4As Account Planning School 2006 – Strategic Planning
· Pacific Conferences Marketing to Young Adults Seminar 2006
---
More Articles